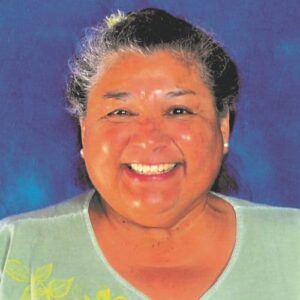 May 10, 1956 – April 28, 2022
Sister Rosemarie, C.S.J. age 65, passed away on Thursday, April 28, 2022, at St. John of God Retirement in Los Angeles. Affectionately called Rosie, she was born in Los Angeles into a family of eight children. Her family described her as solid, steady and industrious. She entered the Sisters of St. Joseph of Carondelet on August 14, 1979.
Her early years in ministry were in elementary education. In 1991, she was missioned to Hawaii, where she taught for 24 years. She loved her students and they loved her in return.
Sister Rosie's straightforward manner and strength of character helped her to accomplish whatever she set out to do and to do it to the very best of her ability. Loyalty and devotion to family were always important to her. In 2015, when Sister Rosie was 59 years old, she returned to Carondelet Center with health issues.
She left behind many long-time friends and close relationships in the community from her years in Hawaii. She is survived by her brothers Carlos Montoya, Mark Montoya, Thomas Montoya and Greg Montoya and her sisters Lillian Montoya, Susan Villanuena and Bernice Montoya.
A virtual Service of Remembrance will be held Wednesday, June 8, 2022 at 2 p.m. Pacific. If you wish to receive the link to the Zoom please email sharon@csjla.org. Donations in memory of Sister Rosemarie Montoya may be sent to: Sisters of St. Joseph of Carondelet, 11999 Chalon Road, Los Angeles, CA 90049 or donate online