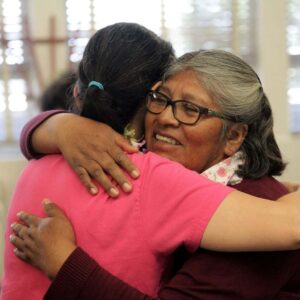 In serving the dear neighbor without distinction, our sisters' ministries focus on those who have the least in this world or need someone to help them use their own voice.
Please consider making a gift to support our sisters as they "do all things of which women are capable."
You can use this form to donate to:
The congregation

,

which supports all of our sisters around the world

The Peru Mission Fund, which supports our sisters in Peru
To make a gift specifically to one of our provinces, go to the Albany, Los Angeles, St. Louis or St. Paul province websites.
Online donation form
Clicking the button above will take you to the PayPal website where you will complete your donation.
Donations can also be sent via check to:
Sisters of St. Joseph of Carondelet
10777 Sunset Office Drive, Suite 10
Saint Louis, MO 63127
To support our sisters in Peru, please make checks payable to the Sisters of St. Joseph of Carondelet Mission Fund.