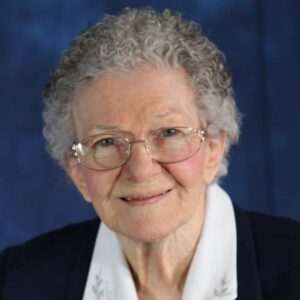 August 10, 1928 – February 22, 2023
Mary Ellen Sprouffske, CSJ died peacefully on February 22, 2023 at St. John of God Retirement and Care Center in Los Angeles. She was born in Inglewood, California on August 10, 1928 into a strong Irish family.
After graduating from Bishop Conaty High School, Mary Ellen entered the Sisters of St. Joseph of Carondelet community in 1946. Her years of ministry included teaching at elementary and secondary levels, administration and adult education, and spiritual direction. In her later years, she served in the Los Angeles Province Archives and with the Desert Refuge for Peace Officers.
Sister Mary Ellen retired to Holy Family Community in December 2011 and found love and companionship from the sisters, nurses and staff who treasured her beautiful, warm and generous spirit.
Sister Mary Ellen wrote, "Dear Sisters, I say goodbye. I have loved being a Sister of St. Joseph of Carondelet. It was hard some days, but I always felt it was worth it. Do not be afraid for God is with us." May she rest in peace.