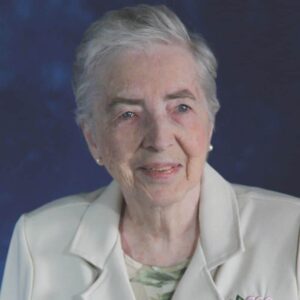 July 31, 1928 – March 25, 2022
Doris Villeneuve, CSJ died peacefully on March 25, 2022, at 7:45 at St. John of God Retirement Center in Los Angeles, California. She was 93 years old.
A native of Syracuse, New York, Sister Doris was one of four children. She always remained close to and connected with her family. In 1964, Doris received a degree in math and physics from The College of Saint Rose College in Albany. When her family moved to California in 1978, Doris transferred to our Los Angeles Province, where she taught at St. Bernard's and St. Mary's Academy. She was a woman dedicated to the congregation, and she adjusted easily to transferring to the Los Angeles Province after 29 years of teaching in New York.
Sister Doris made lasting friendships and was always ready to help in any way possible. She took great delight in teaching people to pronounce her last name correctly (Vil-Nev). She was a loving, welcoming and hospitable person.