August 14, 1925 – June 19, 2022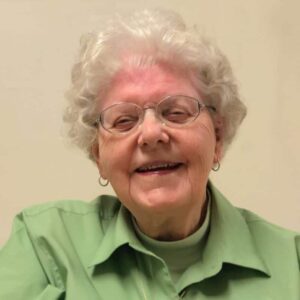 Sister Claire Latham passed away on June 19, 2022, at St. John of God Retirement Center in Los Angeles, California.
A native San Franciscan, Sister Claire was born the sixth of 12 children. She attended Star of the Sea Academy for grade school and high school. She entered the Sisters of St. Joseph of Carondelet community in 1943.
Sister Claire began her ministry in education and administration at St. Joseph Children's Home in Culdesac, Idaho. After serving 38 years in teaching and administration, she was appointed to the Diocesan Office of Education in Portland, Oregon. In 1990, Sister Claire attended the Weston School of Theology. At this time, her awareness of justice issues was raised. Claire found liberation in the Vatican II documents and in Scripture study.
Those who knew Claire enjoyed her sense of humor and playfulness. She was strong, dignified and determined and had a great love of teaching and learning. She was thoughtful and hard-working, a person who preferred to stay at home unless there was a family gathering.
May she rest now in peace as she is reunited with her parents, nine of her 12 siblings and her favorite nephew, John. Claire still has a large family who will miss the significance of her place in the family. Please hold all of them in prayer, especially her brothers Tom and Ray and their families.