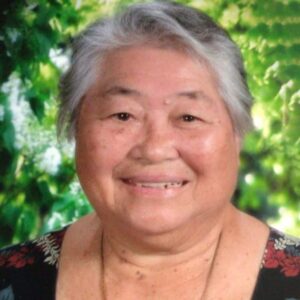 May 3, 1928 – April 10, 2023
Sister Anita Marie Rosco died unexpectedly but peacefully in her sleep, on April 10, 2023, three weeks shy of her 95th birthday. She was born in Ewa, Oahu, Territory of Hawaii, on May 3, 1928 and baptized Mary Felicitacion. She was one of three children of Paz Lucenado and Dionicio Rosco. The family later expanded to include five half-siblings.
She attended public schools and met the Sisters of St. Joseph while attending CCD classes at Immaculate Heart Parish in Ewa. After graduating from high school, taking clerical classes and working in Honolulu, she entered the Sisters of St. Joseph of Carondelet in 1950 and was given the name Sister Anita Marie.
Sister Anita then began her life-long ministry of teaching kindergarten through fourth grades, along with after-school care programs, school liturgies and office support. Over the years, she was assigned to several Catholic schools in the California cities of Canoga Park, Manhattan Beach, Encino, and Oxnard; and to Christ the King School on Maui; St. Theresa School in Honolulu; St. Joseph School, Waipahu; St. Anthony School, Kailua; and Holy Trinity school, all in Hawaii.
Sister Anita loved Hawaiian music and dance, playing the ukulele, doing crossword puzzles and attending University of Hawaii volleyball games. She was always cheerful and smiling, grateful for every small kindness.
May she rest in peace.