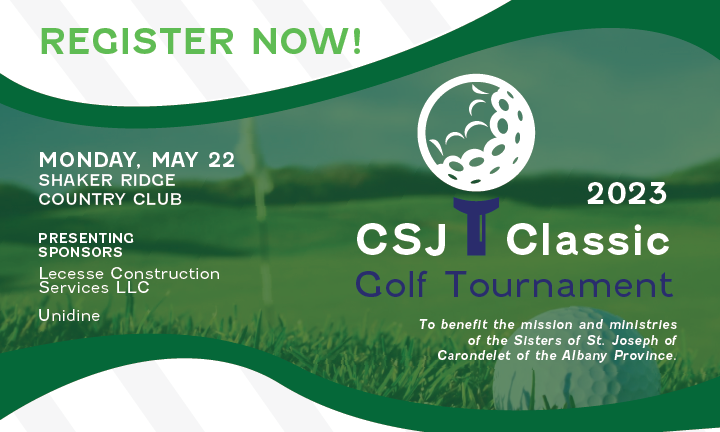 Please click here to view/print the registration brochure.
Registration closes April 28, 2023.
---
2023 CSJ Classic Sponsors
The Sisters of St. Joseph of Carondelet thank the following sponsors for supporting this year's CSJ Classic!
*sponsors as of 04.10.2023
Presenting Sponsors
Lecesse Construction Services LLC
Unidine
CSJ Golf Cup Sponsors
Callanan Industries
Lia Auto Group
M&T Bank
CSJ Pros Sponsors
David J. Vallecorsa DDS PLLC
Rosetti Companies
Siena College
Walter S. Borisenok Family Foundation
Lunch Sponsor
Westfield Capital Management Co.
Cart Sponsor
St. Anthony's Alumni Association Syracuse
Tee Box Sponsors
Catholic Charities of the Diocese of Albany
CDPHP
Earle Dodd
Exterior Consulting
John W. Clark, Esq.
Marra's Pharmacy
Northeast IS
Phil and Brigitte Johnson
Richmond Capital Management, Inc.
Shaker Pointe
Sisters of the Presentation
St. Anthony's Alumni Association