Letting go. Though the reasons may vary, as these sisters from across the congregation share, it is something we all must learn to do. These interviews have been slightly edited for clarity.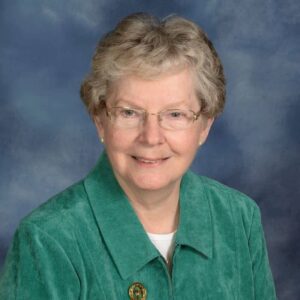 Mary Anne Rodgers, CSJ on letting go of dear friends
Letting go is about freedom. The longer you hang on to anything — a hurt, grievance or something that distresses you — the longer it diminishes your ability to enjoy gratitude.
Sometimes it's appropriate to honor loss by holding on. In Albany, we have over 100 sisters living at the Provincial House. Since COVID, access to the building has been a roller coaster. Given our aging situation, we typically have 16 or 18 sisters die within a year. In 2020, it was 39! In a very short time, we had 13 deaths, 10 from COVID.
Because of safety restrictions, much of that [loss] wasn't able to be processed. It's been hard for those of us who have lost good friends and colleagues. We tried to do things through Zoom, but there is a loss of candor and a lack of presence. We tried phone calls, letters, little gifts, intentionality, virtual prayer, which are all vital, but when we can't gather at a table and share a meal, laugh, enjoy shared rituals, conversations and storytelling, the bonds that hold us together are diminished.
We can disagree on theories, political issues and more, but when we can't see each other face-to-face, our sharing of the heart is less natural. Presence is important. In June, we're planning to celebrate Community Day and jubilees in person for the first time in three years. We're looking forward to that with a great deal of happy anticipation.
This experience has taught me three things: relationship, relationship, relationship. I've never been prouder to be a Sister of St. Joseph. I have a great sense of gratitude for being a part of this congregation. Realizing the bond we have together gives me freedom to be who I am.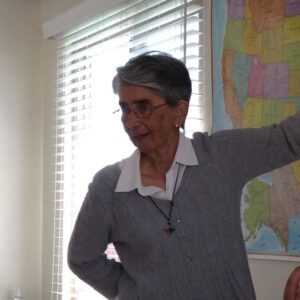 Teresa Avalos, CSJ on letting go of a place you've called home
The decision to leave Peru after 33 years was a big letting go. My parents were in their 80s, so I felt called to return to the States. It wasn't easy letting go of the people of Peru, the culture I was immersed in, my close friends, parish ministry (which I liked), the sisters and leadership. I arrived in Peru before Vatican II. I was coming back to a different place. I felt caught between two worlds, and in my early 60s, it was a brand-new start. I worried about where I would go and what I would do. I talked with a spiritual director in Peru and told her how I felt. She asked, "Has God ever abandoned you?" I said no. "Well, God will never abandon you!"
I came back around Christmas trying to think of the transition as a vacation, but it didn't take long for the worry to begin. A community I'd stayed with while on sabbatical welcomed me. That was a load off my shoulders. The Provincial [leader] called asking if I'd consider a new ministry as her secretary. I said yes. Those were the two biggies.
Yes, God provides. I now know there are people who will be there for me when I need them, though I may not know who they are or how it will happen. These and other changes were invitations to grow personally and internally. It helped me open up, not be afraid and give things a try. It wasn't always easy, but it worked. I learned a lot about myself, and I'm grateful. I am not alone.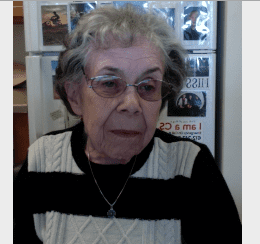 Connie Gleason, CSJ on letting go of independence
I'm experiencing a loss of independence because of my physical challenges. I'm on oxygen and a walker. I've always been very independent, so this really limits what I can do and where I can go. I'm hoping to use this opportunity in a positive way, coming to peace with it by thinking God is saying, "You have to depend more on me than yourself." I don't want to get negative. Some days are better than others. My goal is to be gracious to everyone who helps and cares for me. They are gifts to me.
Roselani Enomoto, CSJ, Sara Sanders, CSJ and Eva Mesina, CSJ on letting go of an identity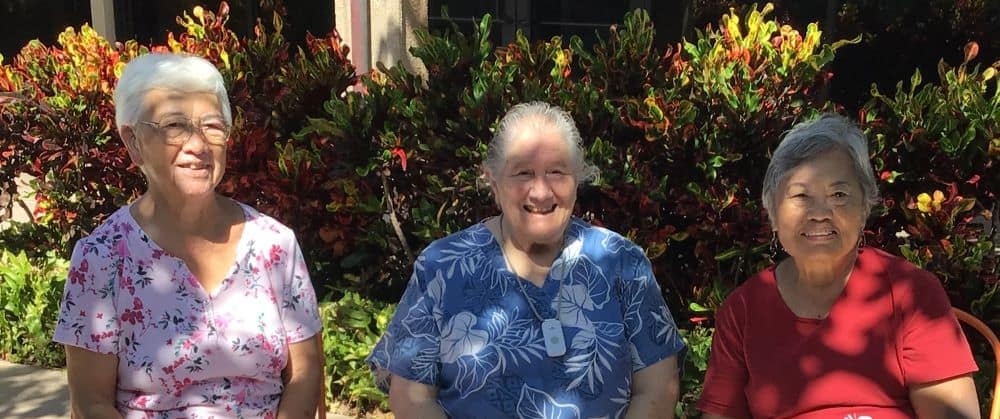 In 2017, after 60 years of existence, our sisters in Hawaii determined they could better serve the dear neighbor if they handed off administrative management of their vice province and joined the Los Angeles Province.
Eva: Every time I hear the word "discernment," what happens in my brain is what we call in Hawaii "talking story." We talk story with God. We talk story with one another. We talk story as a group. This is pono, feeling balanced that everyone has been respected and listened to.
Sara: So part of letting go is letting go of being afraid of what's going to happen next. Part of our discernment involved questions like, what's going to happen five years from now? Ten years from now? Our process took two years of praying together. It's through prayer and Sharing of the Heart that we were able to come to the decision. And letting go of anything has to come out of what in Hawaii we call the na'au, the depths of our being where our God resides in us.
Roselani: The English would be "your guts" — the gut thing, the deepest part of you.
Sara: Letting go of anything takes time. It isn't instantaneous.
Roselani: There are so many things involved in the concept of letting go because that doesn't mean divesting yourself of who you are. We had to get rid of the attitude that it was not a takeover, then share our fears before we could come to a conclusion. We gave each person time to do that, giving each sister a part in this discernment. Everybody was honored. Sometimes, I think letting go is not to be so judgmental of the sister who is dragging her feet maybe or who is so fearful that we can't change her. She needs to change herself. It's the growth in respect for each person's feelings, acknowledging our weaknesses, our failures, our dependencies.
Eva: Around decision time, we finally came to acknowledge that our talking story was pono. It was balanced, sharing your heart, honestly, faithfully and letting go of judging how another person felt. To respect, listen and honor that person who is our sister, 'ohana, which is a big meaning of family. It's not blood related. It's the spiritual connection that all human beings share.
Eva: I remember doing the tallies, and all of a sudden there was a silence. And then you felt it. They didn't say it aloud, but it was "yes." And I just erased the tallies.
Sara: The 2017 chapter affirmed the amalgamation of the Hawaii and LA Provinces, which means these two entities come together to create something totally new. The kinds of things did that change? We didn't have to worry about some of the things. I was so happy not to have to go to meetings about our investments! I didn't have to take care of that, and it was so nice.
Eva: It's a relief.
---
This article appeared in the 2022 issue of Carondelet Magazine. If you would like to receive future issues, please sign up for our mailing list.