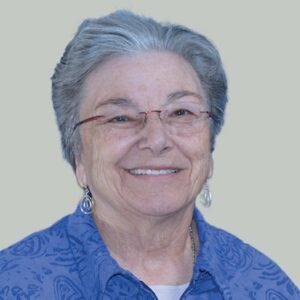 December 2, 1945 – November 11, 2023
Sister Teresa Scottino died on Saturday, November 11, 2023, at St. John of God Retirement Center in Los Angeles.
Teresa was born on December 2, 1945 to Paschal Scottino and Catherine LoCascio. They lived in St. John the Evangelist Parish near St Mary's Academy where Teresa attended school with her sister, Josephine. Strong family ties were a hallmark of her life. After graduating from St. Mary's, Teresa attended El Camino College for one year before entering the community of the Sisters of St. Joseph of Carondelet in 1964.
Sister Teresa's early years of ministry were in grade school education. She earned her master of arts and a license for family counseling in 1985—a ministry she served in for the rest of her years. Sister Teresa served in province leadership and on various community committees. She was supportive of community endeavors and had a strong orientation for justice.
She was a "gatherer" of people. She was known for her smile and her warm, conversational style. Among her often-heard statements was, "Let's invite…" She was an excellent cook and had a flair for entertaining in her home.
Sister Teresa was a gifted woman who shared her life generously. We will miss her. May she rest in peace.