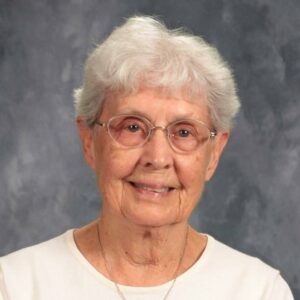 November 17, 1924 – December 12, 2022
Serena Zilka, CSJ was a woman of deep faith who loved music, family, going for vigorous walks and prayer time. She was born Salomea (Sally Katherine), in Flensburg, Minnesota, on November 17, 1924, to Leo and Dorothy (Knopik) Zilka, and died peacefully at Carondelet Village in St. Paul, Minnesota, on December 12, 2022.
Sister Serena entered the community of the Sisters of St. Joseph of Carondelet in 1946, and in 1953 earned a B.S. in pharmacy from the University of Minnesota. She was missioned as a pharmacist for St. Joseph's Hospital in St. Paul, St. Mary's Hospital in Minneapolis, St. John's Hospital in Fargo, North Dakota, and St. Michael's Hospital in Grand Forks, North Dakota. In 1960, while working as chief pharmacist at St. Mary's Hospital in Minneapolis, Sister Serena and those in her charge were awarded the Squibb Plaque in recognition of their outstanding public service in the dispensing of over one million prescriptions. Of this work, Serena had this to say: "It's very rewarding to know that you're instrumental in keeping someone well."
After 23 years of pharmaceutical work, Sister Serena turned to administrative secretarial pursuits at the College of St. Catherine in St. Paul, St. Mary's Junior College in Minneapolis, Holy Spirit Parish in St. Paul and the Sisters of St. Joseph Administration Center in St. Paul. Sister Serena had a wonderfully witty yet dry sense of humor and will be dearly missed by those who knew her.
Sister Serena is preceded in death by her parents; sisters Emily (Gradin), Angie (Adams), Dorothy (Pierzina) and Mary Rose (Weiland); brothers Sammy, Albert, Benny, Bernard, Leonard, Louie, Larry and Br. Placid Zilka. Serena is survived by many nieces and nephews; grand- and great-grand- nieces and nephews; dear friends; and the Sisters of St. Joseph of Carondelet and consociates.
A Mass of Christian Burial will be celebrated on Wednesday, December 28, 2022, at 11:00 a.m., in Our Lady of the Presentation Chapel, 1884 Randolph Avenue, St. Paul, with burial following at Resurrection Cemetery in Mendota Heights. Memorials are preferred to the Sisters of St. Joseph Ministries Foundation.
Dear Serena, rest in love and peace.