August 8, 1925 – February 25, 2022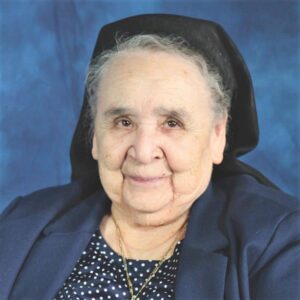 Sister Mary Dominic Chacon, CSJ was born in Los Angeles on August 8, 1925, one of 13 children in her family. She died peacefully in the early hours of the morning, February 25, 2022.
Sister Mary Dominic entered the community in the Los Angeles Province in 1942. She desired to serve people in need. Sister Mary Dominic celebrated her 75th jubilee as a Sister of St. Joseph in 2017. For 30 years, she cooked in hospital, parish and high school convents of the Los Angeles Province. During these years, Sister Mary Dominic showed an awareness of needy persons. She enjoyed sharing stories about early misadventures such as giving away chickens without permission.
There came a moment when she found the need to minister to women in need. She founded St. Jude's Residence for Women, where she welcomed, housed, fed and offered spiritual guidance to women who had been abused.
Her life is an example of loving service to the "dear neighbor" whatever the need, living with hope and trust. Thank you, Sister Mary Dominic, for your years of faithful service.