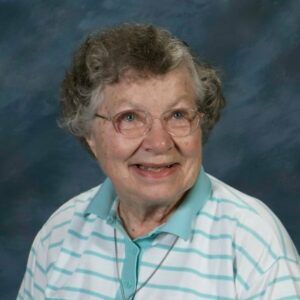 April 7, 1928 – March 26, 2023
Please pray for the repose of the soul of Sister Martha Niemann, who passed away on March 26, 2023, at Nazareth Living Center in St. Louis, Missouri. She was 94 years of age.
Sister Martha Niemann was born on April 7, 1928, in Piqua, Kansas, to parents Edward and Elizabeth (Habiger) Niemann. She entered the Sisters of St. Joseph of Carondelet in 1955 and was received into the novitiate in 1956 as Sister Louis Anne. She earned a bachelor's degree in medical technology from the College of St. Teresa (now Avila University) in 1950.
For 50 years, Sister Martha served the dear neighbor in hospital ministry, in both medical and pastoral care. In the 1960s, she worked as a medical technologist and a laboratory supervisor at St. Joseph Hospital in Kirkwood, Missouri. She continued serving as a laboratory supervisor in the 1970s at St. Joseph Community Hospital in Hancock, Michigan.
In 1975, Sister Martha began 30 years of dedicated ministry as chaplain at St. Joseph Health Center in Kansas City, Missouri, ministering to countless patients and families in their time of need.
Sister Martha retired in 2006 and continued serving in volunteer ministry. In 2015, she volunteered at Journey House in Kansas City, a residential center aimed at restoring opportunities for those re-entering life after prison
Since 2019, she resided at Nazareth Living Center in St. Louis, carrying out her mission of prayer and presence.
Funeral arrangements are pending.
Memorial contributions may be made to: Sisters of St. Joseph of Carondelet, St. Louis Province, 6400 Minnesota Ave., St. Louis, MO 63111-2899 or donate online.