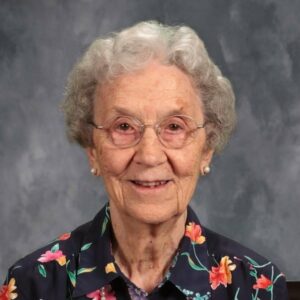 June 27, 1923 – February 25, 2023
Marie Grossman, CSJ, was humble, thoughtful and a compassionate, attentive listener, who spent a lifetime rolling up her sleeves to meet the needs of the dear neighbor.
She was born and raised on a farm in Chokio, Minnesota, on June 27, 1923, to John and Anne (Leuthard) Grossman, and died peacefully at Carondelet Village in St. Paul, on February 25, 2023. After graduation, Marie answered the call to serve her country during WWII by working as a riveter at Boeing Aircraft, in Seattle, Washington. In 1943, she returned home to answer another call and became a Sister of St. Joseph of Carondelet, in St. Paul.
In 1956, Sister Marie earned a bachelor of arts in history and education from the College of St. Catherine in St. Paul, and in 1962, a master of arts in education and instruction from the University of Minnesota in Minneapolis. Catholic Education was her passion, where she excelled as an elementary school teacher for 28 years. She also guided and mentored 32 student teachers including seven seminarians from the St. Paul Seminary. Her missions included St. Mary's, the Cathedral and Holy Spirit Parish in St. Paul, the Basilica in Minneapolis, and St. Michael's in Grand Forks, North Dakota. In 1976, Sister Marie was appointed assistant province director for the St. Paul Province community, serving faithfully in province administration until 1982. Sister Marie spent the next 10 years meeting the needs in New Ulm diocese, at St. Joseph's in Lamberton, Minnesota, as one of the first non-clerical pastoral administrators. Sister Marie truly loved this work and received the New Ulm Diocese Distinguished Service Medal for her generous, gentle leadership.
In 1995, Sister Marie moved with her younger biological sister Agatha Grossman, CSJ, to Gaylord, Minnesota. Together they quickly immersed themselves into the life and needs of the entire community. Significant time was spent creating a youth center, working with the growing Hispanic population as they learned English and ministering to members of St. Michael's Church as they welcomed these neighbors to the community. For this amazing work, they received the Gaylord Chamber of Commerce Community Service Award for witnessing "by quiet example, the true spirit of giving." They also received the Paul Harris Fellowship Award from the Rotary Foundation of Rotary International, "in appreciation of tangible and significant assistance given for the furtherance of better understanding and friendly relations among peoples of the world."
Sister Marie is preceded in death by her parents; her sisters Isabel Tobin and Martha Summer; her brothers Vincent, Joe, Clarence and Primus Grossman. She is survived by her sister Agatha Grossman, CSJ; many nieces and nephews; grandnieces and nephews; dear friends; and the Sisters of St. Joseph of Carondelet and Consociates.
Christian Burial will take place Friday, March 3 at 2:00 p.m. at Resurrection Cemetery in Mendota Heights, Minnesota. A Celebration of Life Mass will take place Saturday, March 4 at 11:00 a.m. in Our Lady of the Presentation Chapel, 1884 Randolph Avenue, St. Paul. Memorials are preferred to the Sisters of St. Joseph Ministries Foundation.
Dear Sister Marie, rest in love and peace.