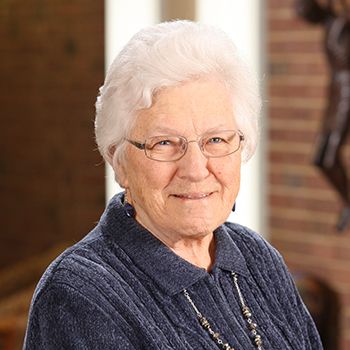 April 4, 1930 – January 1, 2023
Please pray for the repose of the soul of Sister Marian Niemann, who passed away on January 1, 2023, at Nazareth Living Center in St. Louis, Missouri. She was 92 years of age.
Marian Jane was born to parents Edward and Elizabeth (Habiger) Niemann during the Great Depression on April 4, 1930, in the southeast Kansas town of Piqua. After finishing elementary school, they moved to Kansas City, Missouri, where she graduated from Redemptorist High School.
In 1952, she earned a bachelor's degree in English from the College of St. Teresa in Kansas City, which is now Avila University. That fall, she entered the Sisters of St. Joseph of Carondelet. On March 19, 1953, Marian was received into the novitiate as Sister St. Bernard.
The year 1955 was a big year for Sister Marian. In March, she began her mission work as a Sister of St. Joseph, teaching at the intermediate level at St. Viator Grade School in Chicago, Illinois. On August 15, she pronounced final vows. Then, she began working towards a master's degree in English at Marquette University in Milwaukee, Wisconsin, which she completed in 1973.
During those 18 years, while maintaining her studies, she also taught at the intermediate level at Our Lady of Lourdes Grade School in University City, Missouri (1956-57) and St. Edward Grade School in St. Louis (1957-58). She moved to the secondary level and taught at the Academy of Our Lady in Peoria, Illinois (1958-60); Bishop Baraga High School in Marquette, Michigan (1960-63); St. Joseph Academy in Green Bay, Wisconsin (1963-64); and St. Thomas Aquinas High School in Florissant, Missouri (1964-67).
Sister Marian spent the next five years in Denver, Colorado. She taught at St. Francis de Sales High School (1967-70) and Marycrest High School (1970-71). She then became a nurse's aide at Galazy Nursing Home for a year.
In 1972, she returned to Missouri and the classroom to teach at Valle High School in Ste. Genevieve (1972-79) and St. Louis Prep Seminary North in St. Louis (1979-87).
In 1987, Sister Marian transitioned to the west side of the state to serve in the Kansas City area, where she would remain for the next 31 years. She was a freelance writer for Agnes House (1987-90), a staff member at Redemptorist Center (1990-91), a receptionist at the Center for Business Innovation (1991-93) and an office manager for Donohoe and Associates in Shawnee Mission, Kansas (1993-94). Sister Marian spent the next four years caring for her family. In 1998, she served as a home service provider for CSJ Care.
Sister Marian retired in 2004. Yet she spent the next 14 years serving at Journey to New Life, a collaborative, nonprofit organization that facilitates the empowerment of people reentering society from prison or other involvement with the criminal legal system. During this time, she also cared for sisters and friends who were in need of aid, and she volunteered with Habitat for Humanity.
In 2018, Sister Marian moved back to St. Louis to Nazareth Living Center. From then until her passing, she carried out her mission of prayer and presence.
May she rest in peace.
A Memorial Mass will be held on Wednesday, January 11 at 10 a.m. at Nazareth Living Center, 2 Nazareth Lane, St. Louis, MO 63129. Her cremains will be buried at Resurrection Cemetery. The Mass will be available to view watch via livestream at https://video.ibm.com/channel/csjsl-general.
Memorial contributions may be made to Sisters of St. Joseph of Carondelet, St. Louis Province, 6400 Minnesota Ave., St. Louis, MO 63111-2899 or donate online.