September 7, 1930 – November 8, 2023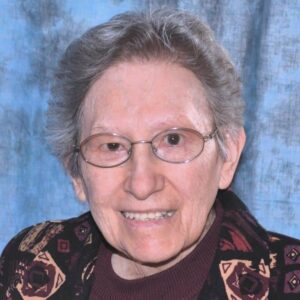 Please pray for the repose of the soul of Sister María Dolores "Dolo" Muñoz, who died unexpectedly at St. John of God Care Center in Los Angeles on November 8, 2023. She was accompanied in her last hours by her sisters in community.
Virginia Muñoz was born in Los Angeles in 1930, one of 10 children. Her devotion to Our Lady of Guadalupe began in childhood. She found Mary to be her intercessor, advocate and guide through many miles and years.
Sister Dolo received her bachelor of arts and master of science degrees in education from Mount Saint Mary's College. She taught at St. Odelia School in Los Angeles, Our Lady of Peace Academy, and Cathedral High School in San Diego.
In 1965, Sister Dolo moved to Peru, where she was missioned for over 53 years. Her first mission was to the Universidad Santa Maria in Arequipa. Later assignments included parish and prison ministries.
At the age of 89, she returned to Los Angeles and joined our Holy Family Community to which she brought her quiet, peaceful, generous spirit. May she rest in peace.