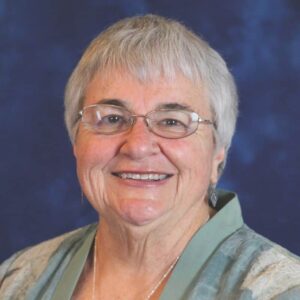 May 21, 1947 – December 15, 2022
Margaret "Peggy" Murray, CSJ died peacefully on December 15, 2022, at St. John of God Care Center in Los Angeles, California. Born in Portsmouth, Virginia in 1947, Margaret was part of a large family that moved frequently while her father was on active duty in the Navy in the United States and abroad. The family ultimately settled in San Diego, where Margaret met the Sisters of St. Joseph of Carondelet at Cathedral Girls' High School. Margaret excelled in school and was an honor student at Cathedral. She entered the Sisters of St. Joseph of Carondelet in September 1965. She received the habit in 1966 and the name Sister Margaret.
Sister Peggy completed her studies in physical therapy in 1972 and worked as a physical therapist for four years at St. Joseph's Hospital in Tucson, Arizona. In 1978, she began preparation for graduate study in hospital administration. She served at Daniel Freeman Hospital in Los Angeles; St. Joseph's Hospital in Orange, California; St. Mary's Hospital in Tucson; Holy Cross Hospital in Nogales, Mexico; Our Lady of Lourdes Hospital in Pasco, Washington; Pacifica Hospital in Sun Valley, California; and was the Director of Support Services for Optimist Youth Homes in Los Angeles.
In 2007, Sister Peggy returned to San Diego, where she enjoyed the opportunity to live near her family and studied clinical pastoral education for hospital chaplaincy. She was involved in caregiving for seniors in San Diego. She will always be grateful for the support of her family and the sisters in San Diego in her final years of struggle with dementia.
Sister Peggy will be greatly missed, especially by her siblings Lynn, Jane, Kevin and Jim and her nieces and nephews.