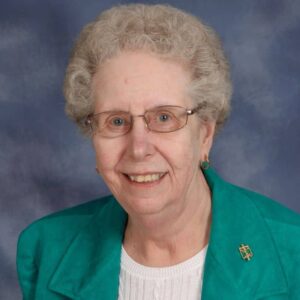 February 9, 1930 – May 13, 2023
Sister Madeline Powers died at St Joseph's Provincial House in Latham, New York on May 13, 2023. She had been a Sister of St. Joseph of Carondelet for 76 years when God called her home.
Madeline was born in Mechanicville, New York, the first child of Lois and Vincent Powers. Two brothers, Vincent and Donald, followed. Madeline graduated from Catholic Central High School in Troy.
Madeline entered the Sisters of St. Joseph of Carondelet in 1947 and received her religious name, Sister Vincent Lois. She made first vows in 1949 and final vows in 1952.
Fifty years later at her golden jubilee celebration, Sister Madeline would proclaim: "My parents taught me to love with no strings attached, to be accepting of all people and to be a person of integrity." The gifts she received from family were enriched by her community family, and she loved with no strings attached all her life.
Sister Madeline was called to teach in numerous grades and then to be a school administrator. The Syracuse Diocese named her area superintendent in Oneida and Madison Counties. New York State appointed her executive director of the Catholic School Administrators' Association.
To each of her ministries, Sister Madeline brought love, acceptance and integrity. She had an amazing ability to see each person's gifts and the best ways to use them. Although she dearly loved teaching, Sister Madeline was even more excited when she could mentor others. She brought the same upbeat approach to life in her local community; Sister Madeline was fun.
In 1986, Sister Madeline was asked by the community to serve as Director of Personnel. Three years later, the Albany Province called her to be provincial director. Again, Sister Madeline served with love, acceptance and integrity. She saw her ministry as a privilege, thanking the sisters daily for their assistance. When her term finished, she moved to Ballston Lake, where she ministered to the parish.
Sister Madeline was greatly loved and will be deeply missed. In addition to her parents, she was predeceased by her brother Donald and her stepsister Judy Breaulac. She is survived by her brother Vince.
A wake service for Sister Madeline will take place at St. Joseph's Provincial House at 7 p.m. on Thursday, May 18. Her funeral Mass will be celebrated at 10:30 a.m. the following day, Friday, May 19.
Contributions in her memory may be made to the Office of Mission Advancement, St. Joseph's Provincial House, 385 Watervliet-Shaker Road, Latham, NY 12110 or donate online.