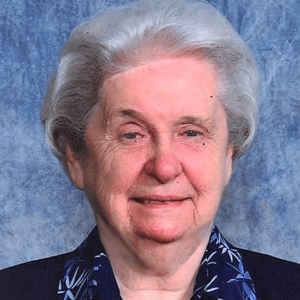 July 12, 1925 – January 10, 2022
Sister Madeline Clancy, CSJ died peacefully on January 10, 2022, at St. John of God Care Center in Los Angeles, California. Sister Madeline was born and raised in San Francisco to Irish parents along with her brothers Bill and Tom and her sister Carmelita. She graduated from Star of the Sea High School in 1943 and worked for the government for the next three years.
Madeline entered the Sisters of St. Joseph in 1946, made first vows in 1949, and was given the religious name of Sister William Joseph, later to returning to her baptismal name as Sister Madeline.
The majority of Sister Madeline's life was spent in education as a high school science teacher, dean of studies, high school principal and diocesan superintendent of schools. Her last "official" ministry was at our Los Angeles Province's Carondelet Center as a valued member of their Finance Office; however, she continued to minister throughout her life as an active and compassionate listener, life coach, cheerleader and community builder.
Madeline deeply cared for others and initiated countless opportunities to engage people in conversation groups, book studies, evening cards and games. She was passionate about learning and stayed current with politics, world affairs, spirituality and scientific advances. She always encouraged others to look for ways to support their mental acuity and modeled this when she took advantage of Braille offerings, digesting a variety of magazine publications and books every month.
She was a committed religious woman, a positive force and a faithful friend to many. May she rest in peace.