February 6, 1942 – March 9, 2022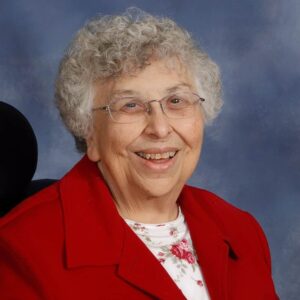 Sister Linda Mary Vendetti, 80, died at St. Joseph Provincial House in Albany, New York on March 9, 2022. She had been a Sister of St. Joseph for 57 years.
Linda was born in Schenectady, New York, on February 6, l942, the daughter of the late Frank and Mary Theresa Giammattei Vendetti. After graduating from Niskayuna High School in 1959 and SUNY at Albany in 1963, Sister Linda taught for one year in Rochester, New York.
She entered the Sisters of St. Joseph in September 1964, professing final vows on August 6, 1970.
In addition to her Bachelor's Degree in business education from SUNY at Albany, Sister Linda received a Master's Degree in counseling/guidance from Siena College in 1969. Several years later, she studied pastoral ministry at Siena College, followed by further studies in sacramental theology at Boston College and Misericordia College in Dallas, Pennsylvania.
Sister Linda began her ministerial service at Catholic Central High School in Troy, New York, as a business teacher. After three years and further studies, she became a guidance counselor at Catholic Central, then at Cohoes Consolidated Catholic Schools.
In 1976, Sister Linda became a pastoral associate, serving at St. John the Baptist, Greenville, St. Mary's, Crescent, and St. Helen's in Schenectady, New York. Sister also served on the Community Life Team at St. Joseph's Provincial House in Albany before retiring in 2014.
During her 28 years of ministry as a parish pastoral associate, Sister Linda did, as her vocation asks of her, "all of which woman is capable." She directed religious education programs for youth and adults, including preparation for the sacraments of baptism, reconciliation, communion, confirmation and matrimony. A gifted musician and vocalist, Sister Linda led and participated in liturgical music activities. She led workshops on family life, prepared Advent and Lenten programs, visited and brought communion to the sick. She served on parish, diocesan and ecumenical councils—and more. In all that Sister Linda did, generosity and compassion flowed from her heart.
Sister Linda always treasured being loved by her God, and she brought the message of God's love to all she met. In explaining the heart symbols that adorned her surroundings and her wardrobe, she said, "For me, the heart is the great symbol of love. I think that once we understand and really know deep down inside that we are loved, the world is ours."
As a family member, sister, friend, teacher, counselor, parish associate, administrator, retiree and, lastly, patient, Sister Linda's constant message was love. When asked what empowered her ministry, Sister Linda named her vow of non-exclusive love and the gift of life in community—religious community, parish community and family community, "The key is community life and the support of community life—what you give and what you receive." For Sister Linda, that was love.
Sister Linda was a faithful friend, gladly remembering others with cards and calls, always thanking them for their presence in her life. Another way that Sister Linda expressed her love for friends and family was with her professional-level cake baking skills. For many sisters' jubilees and for every family celebration, Sister Linda brought a layer cake with wondrous decorations. For weddings, the cake was, as required, many layers high. Family members add Aunt Linda's cakes were not only beautiful but also delicious. Sister Linda's close bond with her family was expressed when numerous members from near and far gathered for her 50th Jubilee weekend celebration at the Priory in Chestertown, New York.
In addition to her parents, Sister Linda was predeceased by her brother, Lewis Vendetti, and her sister, Carol O'Connor. She is held in love by her many nieces, nephews, grand-nieces and nephews, as well as by her many friends and by the Sisters of St. Joseph.
Contributions in Sister Linda's memory may be made to the Office of Mission Advancement, St. Joseph's Provincial House, 385 Watervliet -Shaker Road, Latham, NY 12110 or donate online.