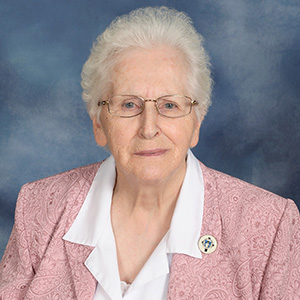 October 18, 1931 – October 21, 2023
Sister Kathryn Dolan (Sister Helene John) died peacefully at the Teresian House, Albany, New York, October 21, 2023. She had been a Sister of St Joseph for 68 years.
A native of Coxsackie, Sister graduated from The College of Saint Rose before entering the Sisters of St. Joseph in 1954. Her studies in sociology prepared her well for what she described as "social work, my one and only love." Later Sister Kathryn continued her education at Syracuse University, becoming a licensed social worker.
Sister Kathryn's love for her ministry aligned perfectly with the spirit of the Sisters of St. Joseph and she generously gave her gifts wherever she was called. She moved with ease from school social work to parish and agency work, reaching countless persons with insight and practicality. Gifted with unique abilities to reach children, she cherished ministry at St. Mary's Home in Binghamton, New York until that facility closed. It remained a treasured memory.
Always open to creative approaches, Sister Kathryn was delighted to be named director of the Volunteer Caregiver Program at Mercy Life Center in Albany, New York. This collaborative endeavor recruited workers from sisters' communities and other volunteers, providing services to anyone requesting them. In addition to home visits, volunteers offered help with AARP, Medicare, and links to area agencies. Volunteers were trained by professionals, thereby extending the network of care.
Sister Kathryn said of her time with the Volunteer Caregiver Program: "I have never been as happy in this ministry as the one I am in now." Once again, she was living out the call of the Sisters of St. Joseph to "serve the dear neighbor without distinction."
After a full life of service Sister Kathryn moved to St. Joseph's Provincial House, there embracing another ministry: the community library. Her years of organization were helpful as Kathryn made good reading available to the sisters. Kathryn also treasured the opportunity to continue her own loves of reading and prayer as well as the community life which enriched her.
Sister Kathryn is survived by two cousins, Paula Sancomb and Charlene Stevens, and many friends in the Sisters of St. Joseph. A vesper service will take place at St. Joseph's Provincial House, Albany, New York on Sunday, October 29, at 7:00 p.m.  Her funeral Mass will be celebrated at 10:30 a.m. the following day, October 30. 
Contributions in Sister Kathryn Dolan's memory may be made to the Office of Mission Advancement, St. Joseph's Provincial House, 385 Watervliet-Shaker Road, Latham, New York, 12110 or donate online.