March 12, 1940 – May 16, 2022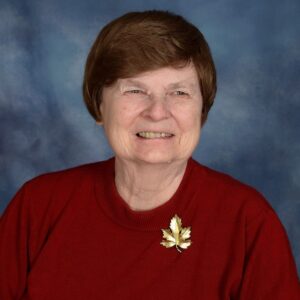 Sister Katherine McPeak (Sister Marion Patrick), 82, died at St. Joseph's Provincial House in Latham, New York on May 16, 2022. Sister Katherine, a native of Jordan, New York, was the daughter of James McPeak and Alice Moore McPeak. After graduation from Jordan Central, Katherine attended The College of Saint Rose located in Albany, New York.
In September 1960, she entered the Sisters of St. Joseph of Carondelet, making her first vows in March 1963 and pronouncing her final vows in August 1968.
Sister Katherine completed her bachelor's degree in social studies at The College of Saint Rose in 1965 and her master's in library science at SUNY Albany in 1970. Her initial ministry was teaching junior high social studies in schools of the Albany and Syracuse Dioceses.
In 1969, Sister Katherine began her cherished ministry as a librarian at The College of Saint Rose. Her smile, gentle sense of humor and willingness to assist students and faculty in the Neil Hellman Library, established her as a treasured member of the Saint Rose Community. Sister Katherine continued her ministry at Saint Rose for almost 30 years.
She experienced a flare-up of a serious physical condition with which she had been struggling for some years and needed intensive physical therapy. Sister Katherine moved to the Provincial House in Latham, New York to continue that treatment.
With a courageous spirit of resiliency, Sister Katherine's zeal for ministry found a way to continue to serve. She was asked to undertake the direction of the Provincial House Library. Initially, this meant that she, with the assistance of several sister staff, needed to adapt what had been a library resource for college classes to become a center for the house. The bright, cheerful library became a gathering place that provided informative and entertaining resources for residents.
A test of the dedication and resilience of Katherine and her volunteer staff occurred when the beautiful library area was needed as space for the health care services based at the Provincial House. The entire library was moved to another smaller area on a different floor. While a physically and emotionally draining task, the new location soon took on its former role as a center for all those who loved its many resources. A friend described her as continuing to know what individuals enjoyed, ordering and displaying new acquisitions.
Sister Katherine's dedication to her library ministry was an inspiration for sisters and staff. She continued that ministry despite physical difficulties and suffering. She spoke of how she had to settle into a new lifestyle and "accept and enjoy what God gives me . . .grace by grace."
In addition to her parents, Sister Katherine was also predeceased by her sister, Patricia Ely. She is survived by caring nephews and cousins. Her memory is also cherished by the Sisters of St. Joseph, her colleagues from The College of Saint Rose, and the many Provincial House staff members who not only cared for her but were inspired by her life and courage.
With continued health concerns and restrictions, attendance at the funeral services for Sister Katherine will be limited to the members of her religious community and her family. Contributions in Sister Katherine's memory may be made to The Office of Mission Advancement, St. Joseph's Provincial House, 385 Watervliet-Shaker Road, Latham, New York 12110 or donate online.