March 25, 1929 – September 20, 2023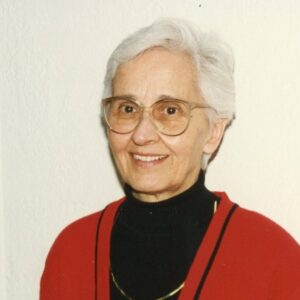 Please pray for the repose of the soul of Sister Jean Rooney, CSJ, who died on Wednesday, September 20, 2023 in St. Paul.
Sister Jean was born on March 25, 1929 to Earl M. Rooney in Minneapolis. She entered the Novitiate of the Sisters of St. Joseph of Carondelet on September 8, 1950 and professed final vows on August 15, 1958. She was given the name Sister St. Dominic.
She graduated from Central High School in St. Paul, earned her bachelor of arts from the College of St. Catherine in St. Paul, and a master's and doctorate in Spanish/English/Italian from the University of Minnesota.
Sister Jean taught Spanish at the College of St. Catherine from 1964 to 1971, including serving as department chair. She taught at St. Mary's Junior College in Minneapolis from 1972-1995. After retiring from college teaching, she tutored at Learning in Style in Minneapolis until she retired in 2009.