April 27, 1938 – January 14, 2023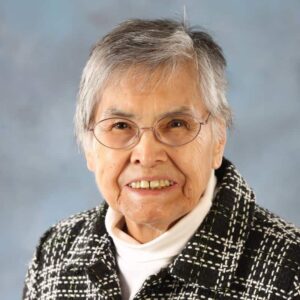 Please pray for the repose of the soul of Sister Jean "Jane" Marie Miller, CSJ, who passed away on Saturday, January 14, 2023, at Nazareth Living Center in St. Louis, Missouri. She was 84 years of age.
Jean Marie—better known as Jane—was born on April 27, 1938, in Keshena, Wisconsin, to parents James and Emma (Reed) Miller. She entered the Sisters of St. Joseph of Carondelet in 1953 and was received into the novitiate in 1954 as Sister Marie Kateri. She received her license as a practical nurse in 1964.
Sister Jean devoted nearly 40 years of faithful service to the St. Joseph Institute for the Deaf. She began in the mid-1970s when St. Joseph Institute for the Deaf was still located in University City, Missouri and served as a child care worker/house parent; research/recreation assistant director and dining room manager. At the Chesterfield location, she served as a purchasing agent, purchasing coordinator and laundress.
Early on in her ministry work, Sister Jean served as a licensed practical nurse. She worked at Nazareth Convent in St. Louis (1956-60), St. Joseph Hospital in Kansas City, Missouri (1964-65) and Riverside Nursing Home in Oconto, Wisconsin (1974-75). She was also a childcare worker/houseparent at St. Joseph Carondelet Child Care Center in Chicago (1960-63), St. Joseph Male Orphanage in Washington, Georgia (1965, January-June), and St. Joseph's Home for Boys in St. Louis (1965-73).
Sister Jean retired in 2012 and volunteered at the St. Joseph Provincial House serving her CSJ community. She moved to Nazareth Living Center in 2014 where she carried out her ministry of prayer and presence.
A funeral Mass was held for Sister Jean on January 16 at the Nazareth Living Center Chapel.
Memorial contributions may be made to: Sisters of St. Joseph of Carondelet, St. Louis Province, 6400 Minnesota Ave., St. Louis, MO 63111-2899 or donate online.