May 22, 1921 – May 15, 2022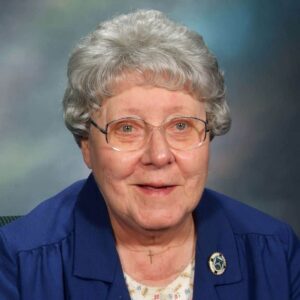 Springtime loveliness was at its height on May 22, 1921, in the small northwestern town of Thief River Falls, Minnesota, when Estelle Josephine was born to Harold and Stella (Charboneau) Provencher. Just seven days shy of 102 years, she died peacefully on May 15, 2022, at Carondelet Village in St. Paul.
Inspired by the life of the Sisters of St. Joseph, she entered our community in 1940, where she was given the name Sister Florine. With her first mission to the Catholic Boys Home in Minneapolis, Florine began a lifetime of engaging ministries. During WWII, she was missioned at St. Joseph's Hospital and with characteristic generosity, provided services for patients and nursing personnel alike. In response to the post-war need for teachers, Florine was missioned at St. Michael in West St. Paul, St. John in East St. Paul, St. Cecilia and Nativity School in St. Paul, St. Helena in Minneapolis, St. Mary in Le Center and St. Mary in Graceville.
After 25 years of teaching, Florine received her CPE certification and began challenging work as Chaplain at Ramsey County Hospital, St. Mary's Rehabilitation Center in Minneapolis, St. Joseph Hospital in Tucson, Arizona, and the Women's Unit at Hennepin County Jail. During her four years in Tucson, Florine went to Clown School and became a professional clown named "Fleury."
Described by those who loved her as "a beautiful example of a friend, confidant and beloved family member," Florine's quick wit and humor, loving presence and gracious kindness to all served her well in the many ministries she so generously offered to those she met along her path. Of her life, she wrote: "All and all, mine was a life blessed by God."
Florine is preceded in death by her parents and beloved brother, Lane. She is survived by her second cousin, Renee Nutter; many dear friends; and the Sisters of St. Joseph of Carondelet and consociates.
Mass of Christian Burial will be celebrated on Tuesday, May 31, 2022, at 11:00 a.m. in Our Lady of the Presentation Chapel, 1884 Randolph Avenue, St. Paul, with burial following at Resurrection Cemetery in Mendota Heights. Memorials are preferred to the Sisters of St. Joseph Ministries Foundation.
Dear Florine, rest in love and peace.