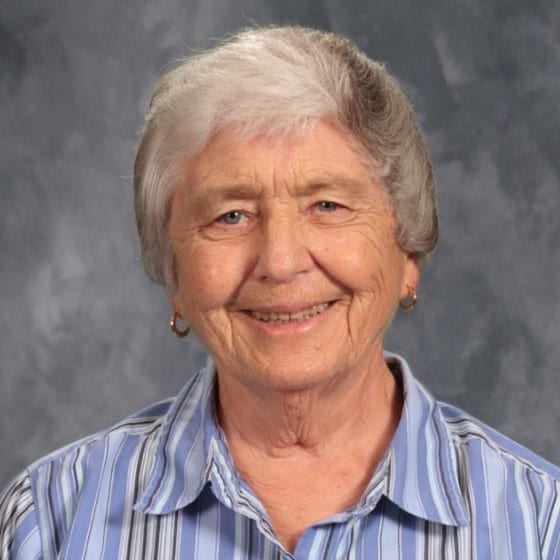 May 27, 1936 – August 10, 2022
Dolore Rochon, CSJ was a lover of life, a passionate advocate for the poor and a compassionate healer for the sick. She was born Jacqueline Rochon on May 27, 1936, in a log cabin built by her great-grandfather, in Rulo, Nebraska. She died peacefully at Carondelet Village in St. Paul, on August 10, 2022.
When she was 5, her parents moved the family to St. Paul's west side where she attended many Catholic schools run by the Sisters of St. Joseph. Inspired by their lives, she entered our community in 1954 and took her father's name Dolore, because she "wanted to be as kind and as good a listener as he was."
She earned a Bachelor's degree in nursing from the College of St. Catherine in St. Paul in 1961, a Master's in nursing administration from Wayne State University in Detroit in 1971, and later did a two-year independent study for patient care administrators at the University of Minnesota in 1976. Her nursing career spanned more than 25 years and included being head nurse and supervisor of pediatrics at St. Mary's Hospital in Minneapolis and in-service coordinator and home health nurse at Jamestown Hospital in Jamestown, North Dakota. At St. Joseph's Hospital in St. Paul, she served as pediatric supervisor, associate director of nursing, director of nursing, and as vice president of patient services.
From 1988-1997, Sister Dolore served as the administrator at Bethany Convent in St. Paul, where she regarded the work as "a sacred privilege." Together with Rita Steinhagen, CSJ, and Catholic Charities, she started the Christ Child's Shelter to meet the needs of those who were cold, homeless and without resources. In recognition of this work, sister Dolore received the Spurgeon Award in 1982. She joyfully served for five years on the St. Paul Province Leadership Team, as a trustee for many schools and organizations, and created the first hospice unit at St. Joseph's Hospital.
In a 2020 interview, Sister Dolore was asked what she would like others to know about her. She offered, "I love life, and I love the people that I have shared it with."
Sister Dolore is preceded in death by her parents Dolore and Doris (Caverzagie) Rochon and brother Thomas Rochon. She is survived by nephew Steve Rochon; cousins Heidi Bauman and Jeffery Haberkorn; many dear friends; and the Sisters of St. Joseph of Carondelet and Consociates.
A Mass of Christian Burial will be celebrated on Friday, September 2, 2022, at 11:00am, in Our Lady of the Presentation Chapel, 1884 Randolph Avenue, St. Paul, with burial following at Resurrection Cemetery in Mendota Heights. Memorials preferred to the Sisters of St. Joseph Ministries Foundation.
Dear Dolore, rest in love and peace.