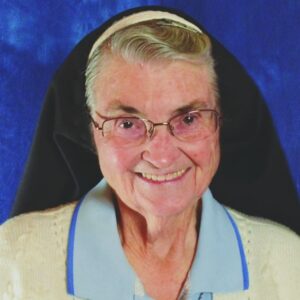 August 6, 1930 – January 8, 2023
Sister Rose Adrian Peukert died on January 8, 2023 at St. John's Medical Center in Santa Monica, California. She was born Roselyn Agnes in Los Angeles on August 6, 1930. Her family eventually moved to a farm in Oxnard.
After graduating from Santa Clara High School in Oxnard and Mount Saint Mary's University (then College) in Los Angeles, Rose entered the Sisters of St. Joseph of Carondelet community in 1951. Her ministries throughout her life were mainly in education and administration.
Sister Rose was a prayerful support and a good listener. She had the ability to capture the spirit of a person, a sunrise, the ocean and natural beauty in words. She was a poet at heart and shared her gift generously. Sister Rose was an avid reader and participated in book clubs and kept up correspondence with students, family and many friends. She was a meticulous bookkeeper and always kept a balanced budget. She prayed regularly for rain, care of our children and the protection of Earth.
Sister Rose was an integral part of community life, and her presence is missed. May she rest in peace.