We recently welcomed our newest candidate into our formation process. Get to know her below.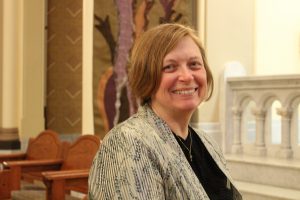 Name: Kristina DeNeve
Entered: I began candidacy January 4, 2019.
Hometown: Moline, Illinois (part of the Quad Cities)
Current home: the Motherhouse at Carondelet – lucky me!!
Education: B.A. in Psychology and Theology from St. Ambrose University, Davenport, IA; M.A. and Ph.D. in Social Psychology from University of Missouri-Columbia; Certificate in Retreat and Spiritual Direction and M.A. in Christian Spirituality from Creighton University
Occupation: I've been a university professor and administrator and then worked in adult faith formation and evangelization for two different dioceses. As a candidate, I am responsible for my own finances/job so I am continuing to teach online with the College of Doctoral Studies at Grand Canyon University. In addition, I am volunteering three days a week at Fontbonne University in campus ministry.
Favorite place you've lived: I've lived in Illinois, Iowa, Missouri, Waco, Omaha, Green Bay, and Oahu. There has been something to love that is my "favorite" in each place I've lived.
Favorite movie or book: The Holy Longing by Fr. Ronald Rolheiser
Favorite quote: Currently, one of my favorite things to say is "I love growth; it's just change that I hate!"
What brings you to religious life right now? I really want to grow in holiness, grow to become more the person God created me to be. And, at this age and stage of life, I believe that living as part of a religious community might help me to do that more "effectively" than if I continued living as a single lay woman.
What attracted you to our congregation? First and foremost, because the CSJs were founded by a Jesuit, and Ignatian spirituality undergirds this congregation. Beyond that, the way that CSJs live out the Gospel re: justice and loving God and neighbor without distinction matches my own desires re: how I might live as a follower of Jesus.
In your time with us, what has been your greatest delight? The Sisters! I love living in the Motherhouse and getting to know all of the Sisters better.
What do you think will be your greatest challenge? I kinda doubt that my biggest challenge will be something I foresee, but it is likely to be something that I thought I had "all figured out" or that otherwise would not be an issue. If I had to guess now, I would guess my biggest challenge might be to accept a decision made by others that directly impacts me if I don't feel like I understand and/or agree with the decision. Also, in the short term, I can say that giving up my kitty and especially my dog to begin candidacy has been tough.
What do you hope for? I hope to continue to grow closer to God, self, and others while I am a candidate and beyond!