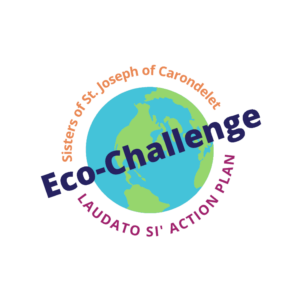 As part of our commitment to Earth via our Laudato Si' Action Plan, we are inviting everyone who shares in our charism to take a monthly Eco-Challenge with us.
What we choose to eat affects the planet
This Earth Month, join us in reflecting on the food choices that we make and their impact on the planet. We'll be sharing reflections and calls to action from some of our sisters, associates and friends that we hope will inspire you to explore if there are any food choices you wish to make differently.
In Laudato Si', Pope Frances invites us to undergo an ecological conversion, which is as much about radically altering our perspective of life on our planet as it is about making behavioral choices. Follow our blog and social media this month for educational information, thoughts to ponder and questions to explore to deepen your ecological conversion. We'll even share some favorite recipes!
However you choose to join the challenge this month, we urge you to take the time and reflect on the choices that you make and their impact on our planet. May this challenge help you to go deeper, journey farther and respond boldly and creatively to the call to ecological conversion.
Take the Eco-Challenge
In April, choose one or all of these challenges to reduce your beef and dairy consumption.
Spread the word
Choose your challenge above
Share your commitment in the comments section below.