I recently had the opportunity to visit the Posada del Migrante Shelter in Mexicali, Mexico. This shelter provides a home for up to 300 migrants, many of whom have fled their countries due to threats of violence and are seeking asylum in the United States.
My journey began in Los Angeles, about 260 miles north of the border town of Calexico. After arriving at my hotel and preparing my equipment for the trip, I settled in for the night. The following morning, I joined a group of compassionate volunteers and traveled to the border via taxi. In our group, there were several students from Academy of Our Lady of Peace from San Diego and several Sisters of St. Joseph of Carondelet and Sisters of St. Joseph of Orange and friends.
Once we crossed over, it was a short $6 ride to the shelter. It was a special day for me, not only was it my first time crossing the border with a group of volunteers, but it was also Día de los Muertos (The Day of the Dead) a sacred ritual that celebrates death and life by exchanging mourning for celebration. Families create ofrendas (offerings) to honor their deceased loved ones, decorating altars with bright yellow marigold flowers, photos of the deceased and their favorite foods and drinks.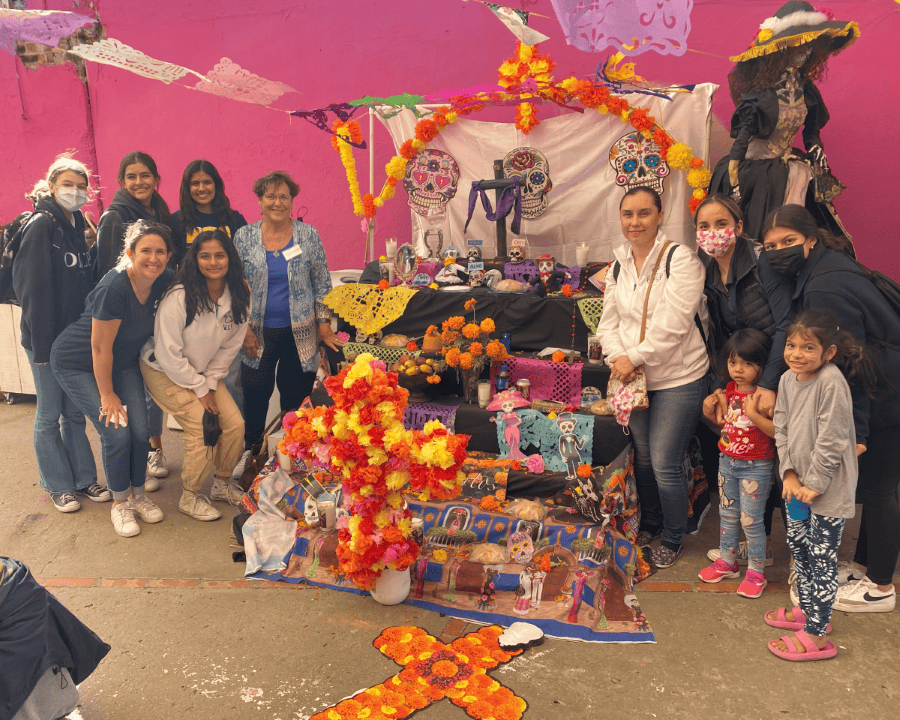 Children from Posada del Migrante Shelter admiring the decorated Día de los Muertos altar – pictured with Sister Suzanne Jabro, CSJ and Academy of Our Lady of Peace staff and students.
Upon arriving at the shelter, we were greeted by four men and some staff who are primarily those seeking asylum. I was struck by the migrants' strong sense of hope and willingness to help. Despite their difficult circumstances, they remained determined and hopeful for a better future. Everyone was smiling and eager to do whatever they could to support one another and help setup for the day.
During my tour of the shelter, I was shown the small rooms that the migrants called home. They were tiny but tidy. I was surprised to learn that there was only one shower for the entire group of 300 people. It was hard for me to imagine.
Throughout the day, I heard stories from different families and began to understand why many of them were eager to leave their hometowns, even if it meant sharing living quarters with close to 300 people and only one shower.
Sister Rosanne Belpedio also took the journey to the border. The experience deepened her call as a Sister of St. Joseph of Carondelet. It reminded her of who we say we are and how we can live our call authentically. She recalled that in 2019 our congregation committed to deepen awareness of our complicity with harmful systems, work toward dismantling interlocking systems of oppression and to use our collective voice to accompany others in speaking their truth.
This call led Sister Rosanne to ask questions about the border and asylum situation, "It made me question: What is going on here? Why are these people so desperate that they will leave their home country to travel great distances on a very dangerous path to reach the US-Mexican border?"
A young child seeking asylum now living at the shelter shows off his sugar skull face paint.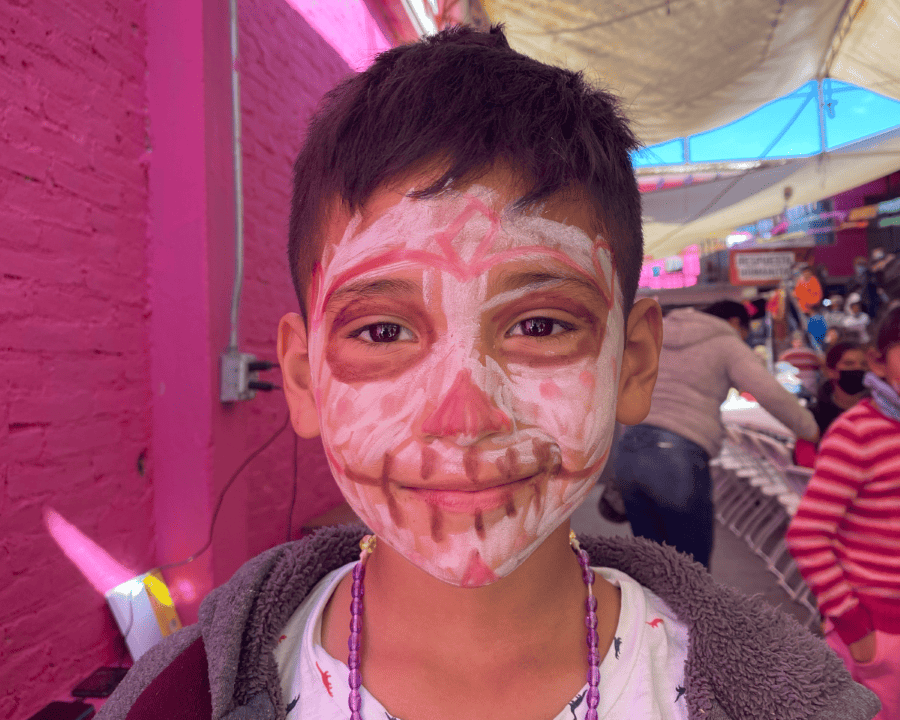 Some of Sister Rosanne's questions were overheard by Sister Celia DuRea as she played Uno with a group nearby. She shared the story of Ofelia who traveled to the shelter in a truck with her daughter, husband and two other young women in their early 20s. All of them had come from a town near Acapulco, Mexico where people are continually threatened and murdered by the violence of drug gangs and corrupt police.
Sister Celia somberly recalled hearing their stories about the "continual harassment, the witnessing of killings, leaving family members, friends, home, and country to find a place to live in peace."
The families Sister Celia was playing Uno with gave her their phone numbers and shared where they hoped to conclude their journeys once they crossed the border into the United States. Sister Celia said, "Each of them has family or sponsors in the United States that they hope to be with. Some have been separated from their family for many years." Sister Celia warmly commented that she is hoping to connect each of them with a Sister of St. Joseph or an Associate, (or maybe even you, who are reading this story), to welcome them, encourage them and to know that they are not alone.
"Hearing their stories were heart-rending, including witnessing killings, leaving loved ones and their country to find peace," she concluded.
By the end of the day, the Día de los Muertos altar was adorned with offerings from the migrants. There was a sense of joy and closeness throughout the shelter. I could see they were all grateful for the opportunity to remember and honor the memories of family members who had passed away.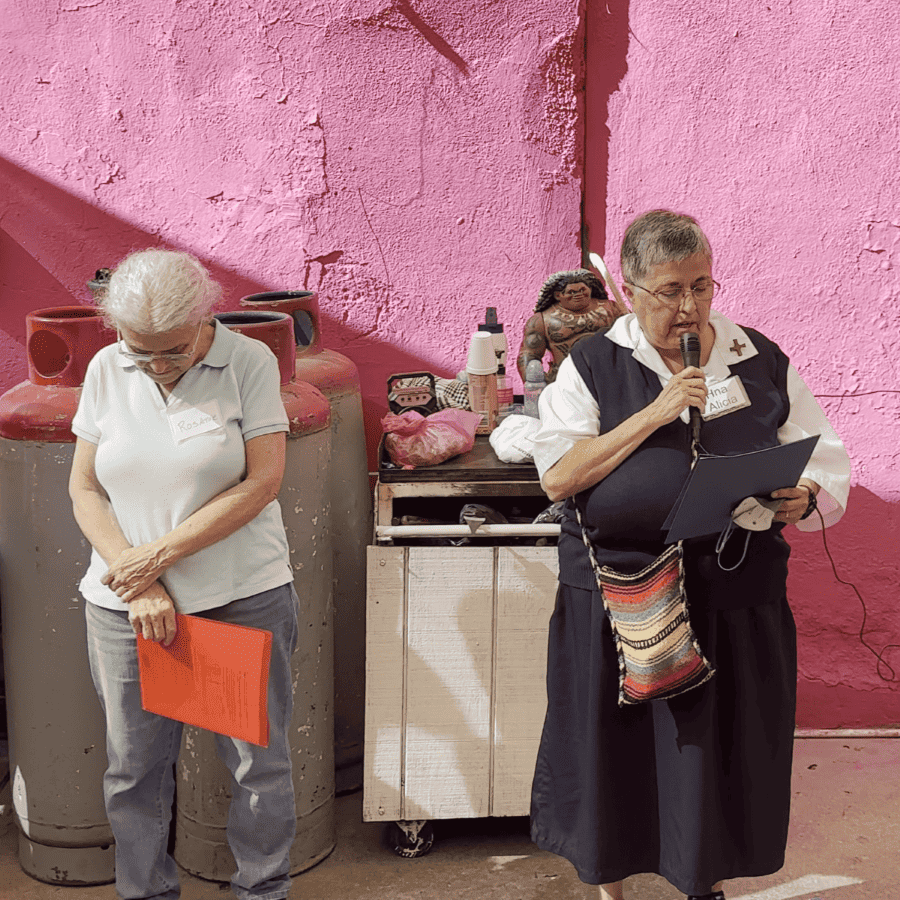 Sisters Rosanne Belpedio and Alicia Rivera lead the blessing for Día de los Muertos.
Isabella Pace, a freshman from the Academy of Our Lady of Peace, shared that the day of celebration made a big impact on her. "As they celebrated Día de los Muertos, they were able to come together and praise and remember those who have died. I remember the kids coming in with flowers and singing." She summarized, "All in all, be grateful for what you have."
"Some of us may not be able to physically encounter those at the border, and so we offer our prayer together," said Sister Celia. "Let us pray for each of [the migrants] and all the families that have found their way to the Posada in Mexicali where they are hoping and waiting for the opportunity to make their crossing into the United States. May we surround them with our love and prayers as they continue their journey."
The experience of visiting the shelter allowed me to build a bridge between two communities. By interacting with the people living there and listening to their stories, I was able to connect with them on a deeper level and understand their perspectives.
If I had lived my life ignoring the struggles and experiences of others, I would have missed out on the opportunity to meet so many amazing people and to grow as a person. The experience of visiting the shelter opened my eyes more to the world around me and helped me to become a more compassionate and understanding person.
About Border Compassion
Border Compassion is an all-volunteer organization that was founded by Sister Suzanne Jabro, CSJ.
The mission of Boder Compassion is to invite faith-communities to cross-over at the border to offer a compassionate humanitarian response to families living at the Posada del Migrante Shelter.
Learn more or donate at border-compassion.org.