This Action Alert has been completed.
Please follow us on social media to receive future time-sensitive alerts.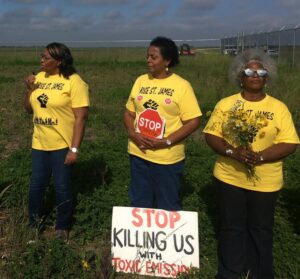 Earth Day 2021 Action Alert
Ask the U.S. Army Corps of Engineers to reevaluate and permanently revoke Formosa Plastics' permit
In collaboration with the U.S. Federation of the Sisters of St Joseph, the Sisters of St. Joseph of Carondelet asks the U.S. Army Corps of Engineers to permanently withdraw the permit allowing Formosa Plastics to build a large petrochemical complex that will double air pollution in St James Parish, Louisiana. Learn more about Rise St. James and UN efforts to end environmental racism in Cancer Alley below.
We invite you to take action by sending an email to the U.S. Army Corps of Engineers asking them to revoke the permits for Formosa Plastics.
RISE St James
Meet our dear neighbor Sharon Lavigne and her neighbors in Cancer Alley in Louisiana. Sharon and her neighbors in the St. James Parish are at the center of a critical intersection of racial injustice and climate change. Sharon will be our speaker at our celebration of Earth Day this year.
United Nations human rights experts identify environmental racism in Cancer Alley
Recently, United Nations Human Rights experts have raised serious concerns about the further industrialization of Cancer Alley, clearly calling this concentration of petrochemical complexes a form of environmental racism. The experts call on the U.S. Government to deliver environmental justice in communities all across America, starting with St. James Parish. To read about the UN perspective, visit the UN Report or the UN News announcement.
"This form of environmental racism poses serious and disproportionate threats to the enjoyment of several human rights of its largely African American residents, including the right to equality and non-discrimination, the right to life, the right to health, right to an adequate standard of living and cultural rights."

United Nations
Federal environmental regulations have failed to protect people residing in "Cancer Alley," the experts said.