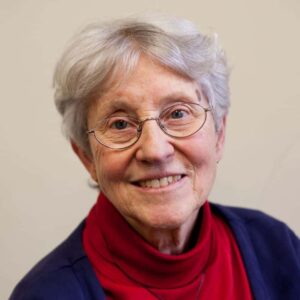 December 26, 1932 – April 12, 2022
Faithful friend and tender caregiver for the wounded, this passionate promoter of peace was born Florence Foster on December 26, 1932, to Dean and Marie (Reul) Foster, and she died peacefully on April 12, 2022, at Carondelet Village in St. Paul.
She entered the community of the Sisters of St. Joseph of Carondelet in 1952. Her life of research and study awarded her a B.A. in math and chemistry from the College of St. Catherine (1956) and an M.A. in theology and physics from the University of San Francisco (1975). Her early career was spent teaching at the Basilica of St. Mary High School in Minneapolis, Minnesota; St. John's Academy in Jamestown, North Dakota; and the College of St. Catherine, St. Paul, Minnesota. After serving on the ministry team at St. Paul's Newman Center in Fargo, North Dakota, she returned to the Twin Cities as a Catholic Worker, doing works of mercy for St. Joseph House and Ascension Place. In 1994, Sister Rita received a certificate in T'ai Chi Chih. This new passion spanned more than 10 years, allowing Rita to offer T'ai Chi instruction, massage and healing touch therapy throughout the Twin Cities.
So much of her life was spent as a peaceful social activist, particularly with the Honeywell Project, promoting the principles of nonviolent resistance and civil disobedience. Of this work, Sister Rita offered: "Nonviolence has as its end the traditionally women's values of cooperation, mutuality, inclusiveness and integrity, with love and truth at its base."
Sister Rita is preceded in death by her parents. She is survived by her sisters Shirley Rian; Mary Ellen Foster, CSJ; Susan Pumarlo; Jennifer Taylor; Deanna (Connie) Abbott-Foster; her brother Charles (Andrea) Foster; many nieces and nephews, grandnieces and nephews; Godchild Katie Rian; many dear friends; and the Sisters of St. Joseph of Carondelet and consociates.
A Mass of Christian Burial will be celebrated on Friday, April 29, 2022, at 11:00 a.m. in Our Lady of the Presentation Chapel, 1884 Randolph Avenue, St. Paul, with burial following at Resurrection Cemetery in Mendota Heights. Memorials are preferred to the Sisters of St. Joseph Ministries Foundation.