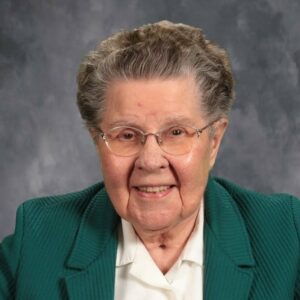 April 30, 1923 – November 15, 2022
Sister Grace Saumur, CSJ died on November 15, 2022 in St. Paul. She was born in Grand Forks, North Dakota on April 30, 1923. She entered the Sisters of St. Joseph of Carondelet novitiate on September 8, 1940 and professed final vows on August 15, 1946.
Sister Grace graduated from St. James Academy (Grand Forks, North Dakota); earned a bachelor's in history/education from the College of St. Catherine (St. Paul) and a Music Education Specialist Certificate from Macalester College (St. Paul). She taught in St. Paul Province schools, including: St. Patrick, St. Louis, St. Vincent, St. Pascal and St. Casmir in St. Paul; St. Michael in West St. Paul; St. Mary in LeCenter; Guardian Angels in Hastings; St. Joseph in Hopkins; and St. Kevin in Minneapolis.
After retiring from teaching, Sister Grace worked in a clerical capacity at Carondelet Center and the St. Joseph Administration Center. She retired to Bethany Convent in St. Paul in 2011 and moved shortly after to Carondelet Village.
In 1996, Sister Grace founded a group called "Prayer Partners" at the College of St. Catherine, through which sisters and consociates partner with St. Catherine students for friendship and prayer.
Sister Grace's father, George Saumur, served in the North Dakota House of Representatives from 1934 to 1957 and then the state Senate until 1966. The town of Hamel, Minnesota was named after her mother's father.
Rest in Peace, Sister Grace.
The funeral celebration for Grace Saumur, CSJ will be held on Wednesday, December 7, 2022 at 11:00 a.m. Central Time at Our Lady of the Presentation Chapel in St. Paul. It will be livestreamed at on the St. Paul YouTube channel (click the red "Live Now" button).