March 31, 1918 – October 31, 2021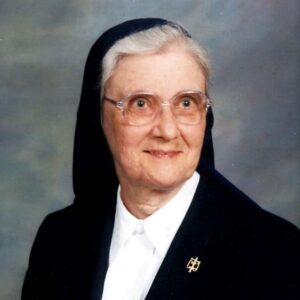 Sister Frances Patricia Degnan, CSJ, died on October 31, 2021, at the venerable age of 103. Sister Frances (christened Edna May Degnan) was born in Troy, New York on March 31, 1918, the daughter of John and Irma Degnan. She was the oldest of six children, and at 13, she assumed the role of a surrogate parent upon the untimely death of her mother.
After graduating from her beloved Catholic Central High School in Troy, New York, Sister Frances attended The College of Saint Rose for two years before entering the Sisters of Saint Joseph of Carondelet on September 8, 1936.
She pronounced her first vows on March 19, 1939 and her final vows on August 15, 1942. Sister Frances was a Sister of Saint Joseph for 84 rich and vibrant years and would have celebrated her 85th Jubilee this coming March.
Sister Frances earned a bachelor's degree in French from The College of Saint Rose and a master's degree from the University of Montreal. In 1959, Sister Frances was the recipient of a Fulbright Scholarship and spent a summer studying French at the Sorbonne in Paris.
While receiving accolades from Senator Jacob Javits, Bishop Foery of Syracuse and many others, Sister Frances remained her humble and unassuming self. She remarked that her award meant more to others than it did to her and that the highlight of the summer for her was her time spent in Rome.
She was a fiercely loyal sister, aunt and companion, and to have her friendship was to possess a great gift. Sister Frances was also a deeply religious woman whose mantra was "God always gives the grace for what He asks," so "don't you worry." She mirrored that trust in her daily life. Both friends and family speak of Sister Frances as always "being there" no matter what befell them. Her lifelong concern for others and her hospitable heart brought her rich and enduring relationships that endured.
In addition to her teaching ministry, Sister Frances also served in her later years as an attendance officer, secretary and librarian at Catholic Central High School as well as a proofreader and
secretary for both her community and the diocesan office. In all of these ministries, Sister
Frances brought her meticulous care and unwavering devotion to her apostolate.
Sister Frances was a lover of all things good, including coffee ice cream from The Snow Man in Troy, homemade molasses crinkle cookies from a former student and a specially prepared tuna salad from a friend.
To know Sister Frances was to be in the presence of goodness and grace, and she will be loved and remembered by countless friends from the Capital District and beyond as well as her beloved community.
Special thanks to the many devoted health care workers who cared for Sister Frances in her final years. In addition to her parents, Sister Frances was predeceased by her sister Rosemary Fandl and her four brothers, Francis, Richard, John and Robert. She is survived by her sister-in-law Shirley and 15 nieces and nephews and their children, with special mention of Agnes Bohl, who served as liaison for Sister Francis and the family in Sister's declining years.
Due to the continued health concerns regarding the COVID-19 pandemic, there will be no
public visitation or funeral services for Sister Frances Patricia. A private wake service will be held for the Sisters of St. Joseph and Sister Frances's immediate family only.
Contributions in Sister Frances Patricia's memory may be made to The Office of Mission Advancement, St. Joseph's Provincial House, 385 Watervliet-Shaker Road, Latham, NY 12110 or donate online.