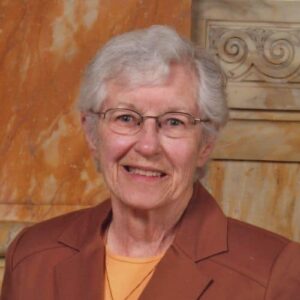 September 14, 1927 – July 22, 2022
Sister Betty Wurm, CSJ died on Friday, July 22, 2022 at United Hospital in St. Paul, Minnesota. The daughter of Martin and Hazel (McAlpine) Wurm, she was born September 14, 1927, in Maple Lake, Minnesota. She lived on the family farm and in town until she entered the Sisters of St. Joseph of Carondelet in 1949 in St. Paul.
Sister Betty's ministries as a Sister of St. Joseph included elementary teacher and principal in a number of Catholic schools in the Archdiocese of St. Paul and Minneapolis. For the past 36 years, she served as a licensed professional helping children and families work through difficulties and mental health issues through an organization called Youth and Family Center that Sister Betty, and friend Sister Martha Merriman co-founded in 1986. In 2020, Sister Betty celebrated her 70th year as a Sister of St. Joseph.
She is survived by Sister Martha Merriman, CSJ, her long-time friend; along with the other Sisters of St. Joseph of Carondelet. In addition, she is survived by her siblings, Eloise Smith, Hazel Decker, James (Marlene) Wurm, Arlene Jude; and sister-in-law Ann Cruikshank; many nieces and nephews; great nieces and nephews, friends and extended family.
She was preceded in death by her parents, Martin and Hazel Wurm; and siblings Agnes (Sylvester) Piram, Grace (Leo) Rassat, Thomas (Margaret) Wurm, Timothy (Marie) Wurm, Mary (William) Jandro, Roy Wurm, Maxine (Leonard) Schaust; brothers-in-law Richard Smith, Allen Decker, Wayne Jude; and nephews Mark Wurm, and Greg Rassat; nieces Lisa Potter, Sandra Grams; and great-nephew Peyton Schaust.
A Mass of Christian burial will be held at 11:00 am on Tuesday, July 26, 2022 at St. Timothy's Catholic Church in Maple Lake, Minnesota. Visitation will be held from 8:30-11:00am prior to the service at the church. She will be interred at Resurrection Cemetery in Mendota Heights at 3:00pm following a visitation one hour prior in the Resurrection Cemetery Chapel.