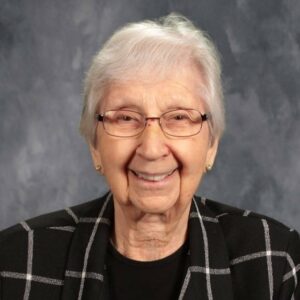 March 22, 1925 – October 7, 2022
A dynamic teacher, gregarious lover of people, gifted storyteller, avid Minnesota Twins fan, and woman of deep faith, Elizabeth Ann Gits was born in Marshall, Minnesota, on March 22, 1925 to Edmund and Theresa (Honsa) Gits. She died peacefully at Carondelet Village in St. Paul, on October 7, 2022.
In 1943, Betty entered the community of the Sisters of St. Joseph of Carondelet where she was given the name Sister St. Gregory. In 1958, Sister Betty received a bachelor's degree in sociology and education from the College of St. Catherine in St. Paul. She was first missioned as an elementary teacher at many Twin City schools including St. Columba and St. Mary in St. Paul, St. Anne in LeSueur, Our Lady of Lourdes in Minneapolis, St. John the Baptist in Excelsior, and St. Peter in Richfield.
After teaching, Sister Betty became the first lay pastoral administrator in Minnesota at St. Joseph Parish in Circle Pines, Minnesota. She continued this work at Holy Redeemer in Marshall, Minnesota; St. Raphael in Springfield, Minnesota and St. Thomas in Sanborn, Minnesota. Sister Betty also served as chaplain at Weiner Memorial Medical Center in Marshall, Minnesota.
Sister Betty was an outgoing lover of life who enjoyed sharing funny stories with family and friends. Following in her mother's footsteps and her love of music, Sister Betty spent many years singing with the Sweet Adelines.
She will be greatly missed by all who knew her. Betty is preceded in death by her parents and brother, Gregory. She is survived by her sisters Kathleen Hamerlinck and Pauline Bennett; nieces and nephews; grandnieces and nephews; dear friends; and the Sisters of St. Joseph of Carondelet and Consociates.
A Mass of Christian Burial will be celebrated on Friday, October 28, 2022, at 11:00 a.m., in Our Lady of the Presentation Chapel, 1884 Randolph Avenue, St. Paul, with burial following at Resurrection Cemetery in Mendota Heights. Memorials are preferred to the Sisters of St. Joseph Ministries Foundation.
Dear Sister Betty, rest in love and peace.