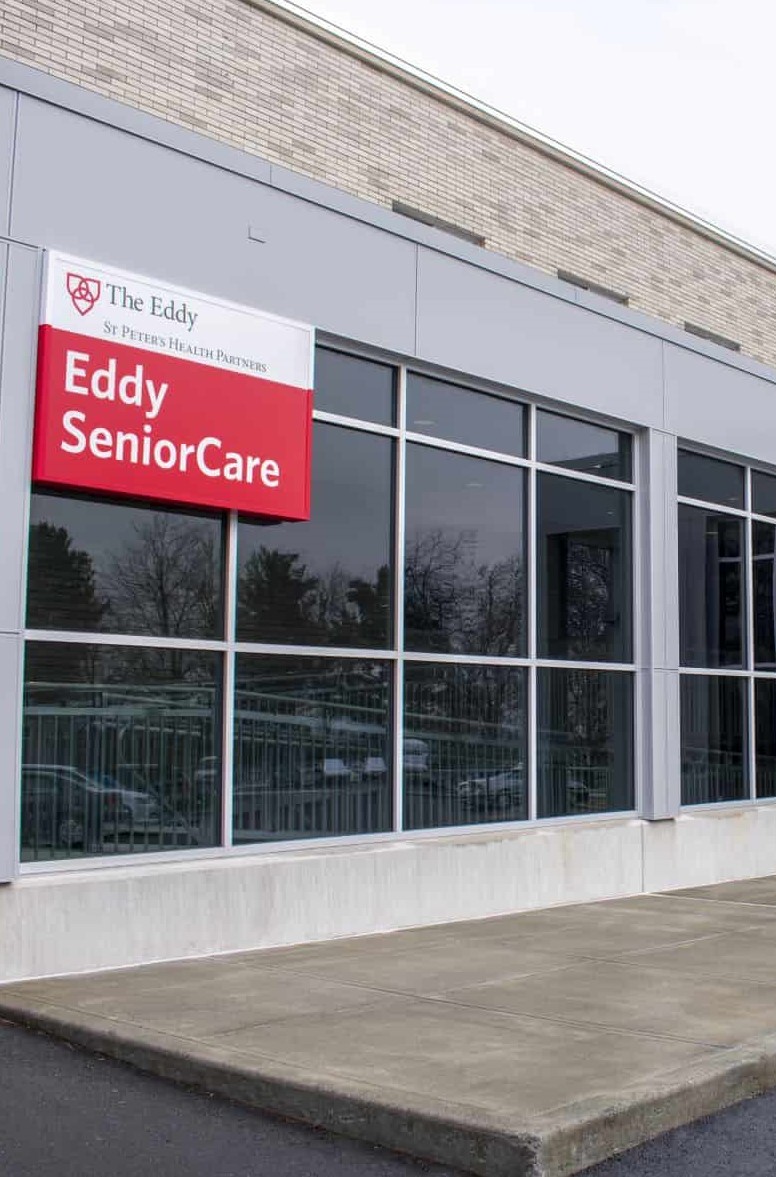 It is through great vision, leadership and generous support of our donors that the Sisters of St. Joseph of Carondelet, Albany Province were able to partner with St. Peter's Health Partners in creating our newly opened PACE Program. After years of diligent planning, extensive construction and an ambitious campaign, "Continuing the Legacy" we opened our PACE doors!
We have many things for which to be grateful, but the generous support we received from donors such as you is at the top of our list. Thank you for your generous support.
St. Joseph Guild
Ascension Health
Mons Concepit Foundation
John Marie and Joseph Whalen Foundation
Le Puy Member
Tersigni Family Foundation
Fontbonne Member
Carl E. Touhey Foundation
The Estate of M. Jean and John A. Carlin, Sr.
Compass Group, North America
John C. Dunphy Private Foundation, Inc.
Gloria A. Lekki-Macri
Maggio Family Charitable Fund
Neena Rao Charitable Trust
The Estate of Anna M. Tabolt
Carl Touhey Foundation
The Harry and Jeanette Weinberg Foundation, Inc.
Medaille Member
The Madden Family
McCarthy Charities
Dr. Mary C. Ragan
St. Mary's Healthcare Amsterdam
Troy Savings Bank Charitable Foundation
Gurry Member
Suzanne M. Congel
Most Rev. Robert J. Cunningham
David Cutler
The Estate of Richard J. Egan
Claudia and Vic Giulianelli
Mr. and Mrs. Daniel J. Hogarty, Jr.
Bishop Emeritus Howard J. Hubbard
The Jones Family
Mr. and Mrs. Edwin M. Kraus
Lia Auto Group
JM McDonald Foundation
R. Mark and Kathleen Sullivan
The Whalen Family
Hogan Member
Carl E. Touhey Foundation
Susan Baldoni and Dr. Kate Szczerbacki
Scott and Pat Barron
Joan and George Bourgeois
Tom and Patty Clement
Mr. and Mrs. Gary R. Davis
Ed Deimeke
Senator James H. Donovan Memorial Fund
John Droz
Emily Etzkorn, MD and Jerry Lamori
Mr. and Mrs. Dennis P. Fagan
Forbes Family Irrevocable Trust
Mr. and Mrs. John A. and Jean Hartigan
The Community Foundation of Herkimer & Oneida Counties
Nancy Koltko
The Estate of Barbara Jean Lowney
James J. Mara, Jr.
The Morrell Family
John Nigro
Frank Perrella
The Estate of Zeena Plesko
Roman Catholic Diocese of Syracuse
Mr. and Mrs. Angelo A. Serafini
Sisters of the Holy Names of Jesus and Mary
St. Anthony Alumni
Roddy and Mary Valente
Walt and Judy Wallen
James P. Wright
The Estate of Jane D. Wurz
Friends
The Abbis Family
William and Virginia Acquario
Marilyn J. Adsit
Edward J. Allen
Gail B. Allen
Robert E. Alvaro
Annette Couture Anderson
Mr. and Mrs. Thomas Anderson
Jo Angela
Aurora E. Arena
Martha A. Arnold
Mr. and Mrs. Salvatore Arrigo
Donna M. Arseneau
Joan Augustyn
Jeanne M. Aurelia
Mary C. Bailey
William S. Bailey Irene Baldovino
Catherine Barber
Peg Bardon
Mary Anne Barrington
Mr. and Mrs. Arthur Bartlett
Joanne D. Bartolotta
Stephen Battaglia
Anne Marie Bauman
Maria Beck
Mr. and Mrs. Raymond Bedard
The Bell Family
Anne Marie and Raymond Bell
Joyce A. Bellinghausen
Joseph A. Belokopitsky, Sr.
David and Lauren Bentley
Gustave L. Berger, Jr.
Donald A. Bertoldi
Kathleen C. Birmingham
Mr. and Mrs. Thomas H. Blair
Dr. Kathryn Blanchard
Helen M. Blanchette Mary Ann Bodiot
Dean and Anne Bodnar
Laraine R. Bodnar
Mildred B. Bondy
Rev. Donald E. Bourgeois
Mary Bowers
Isolde Boyd
Mr. and Mrs. Gerard J. Bradley
Suzanne Bree
Frank Brenenstuhl
Denise Brennan
Maryanne and Leon Breton
Marilyn Z. Bright
Mary L. Brink
William J. Britt
Mr. and Mrs. John J. Broderick
Rosemary and Herbert Brodt
Arlene M. Brown
Daniel J. Brown
Kathleen Ann Bruce
Paul V. Bruno
Charles and Helen Bruns
Mr. and Mrs. Peter Brusoe
Rev. Gerald J. Buckley
Linda Buckley
Margaret M. Buckley
Lorraine P. Bulson
Grayce Susan Burian
Peter and Pat Burkart
Diane Burke
Nancy Burkly
David and Edith Burns
Eileen R. Burton
Gayle C. Buschle
Mr. and Mrs. Keith Butters
Mr. and Mrs. Jack Byrne
Nancy Calkins
Mr. and Mrs. Anthony Campana
Aileen Campbell
Betty Canape
Concetta Canestrari
Edward F. Carey
Rev. James H. Carey
Linda Carmody
Rev. Carmola
Julie Carrigan
Mr. and Mrs. Leo P. Carroll
Robert and Patricia Carroll
Mr. and Mrs. James P. Casey
Regina Cassetta
Donald W. Castle
Emanuela Castle
Alice Caton
Dr. Catherine Cavanaugh
Carolyn A. Caveny
Mr. and Mrs. William J. Charbonneau
Laura M. Chase David Christopher
David A. Chura
Michael F. Ciccarelli, Sr.
Mr. and Mrs. John P. Cimon
Marilynn D. Civic
Dan and Marie Clement
Donna Clement
Adele Cloutier
Club St. Agnello Abate of Amsterdam, NY
Margaret A. Coates
Millicent M. Cobb
Dick and Nancy Cocker
Terry Cognetto
Eileen Tuffey Coleman
Thomas M. Coleman
Betty Collins
Jane M. Collins
Katherine T. Collins
The Columbiettes of Capital District Chapter
The Comerford Family
Frank and Helen Connally
Margaret T. Connoly
A. William and Mary E. Connor
Leanne L. Connor
Mr. and Mrs. John R. Conroy
Mr. and Mrs. James A. Constanza
Phyllis P. Cooney
Patricia Coons
Mary Anne and Tony Corasanti
Alice J. Corbett
Kathleen J. Corbett
Mr. and Mrs. John D. Corcoran, Jr.
Catherine M. Corlew
Don and Cathy Cornue
Robert and Lura Correia
Marie Costa
Rachelle Cotugno
Ethel T. Coutu
Ginny W. Craiglow
Nancy S. Crast
Mary C. Craven
Peter M. Creed
Mr. and Mrs. Paul Crispo
Mr. and Mrs. Edward Croghan
Rev. John P. Croghan
Michael Crough
Mrs. Joyce Cuddy
Margaret Culhane
Mr. and Mrs. Edward J. Cummings
Mr. and Mrs. Joseph Cunningham
Janet M. Curley
Leonard Czelusniak
Leonard and Marianne Dabkowski
Mae A. D'Agostino
Rev. Frederick D. Daley
Mr. and Mrs. Patrick D. Daly
Paul A. Damiano Mary Lonegan Darian
Virginia D'Arrigo
Mike and Ann D'Attilio
Eileen M. Davenport
Marie A. Davenport
Jo Ann C. Davis
Louise A. Davis
Mary E. Davis
William and Carol Dedrick
Rev. John E. Deegan, OSA
Joanne DeFreest
Mr. and Mrs. Robert E. Degnan, Jr.
Mary deGraffenried
Barbara V. Delaney
Anthony and Joann Del Negro
Margaret Rose DeLucia
Dr. Patricia D. DeMatteo
Mary E. Denn
Mr. and Mrs. William Derouchie
Arlene Dewan
Kathy and Van Dewitt
Dr. and Mrs. Angel Diaz
Carl, Sandie and Zoe Diaz-Parker
Mrs. Evelino Difiore Dr. Gary Disanto-Rose
Stephen and Joann Dixon
Mr. and Mrs. Thomas Dixon
Sylvia Dobrowski
Betty Fibkins Dodge Ann E. Dodson
Mary C. Dolan
Pat Dolson, STM
Maryalice Donlon
Frances L. Donlon
Patricia Donovan
Lynda Doring
Teresa Dorner
Judith M. Dourney
Mary Ann Dowd
Sheila Doyle
Mr. and Mrs. Thomas M. Driscoll
Stanley and Sharon Drosky
Gerry and Sandy Duggan
David and Rita Duncan
Gary and Kathleen Dunkerley
William A. Dunne
The Dwyer Family
Robert D. Dwyer
Mr. and Mrs. William Dyer
Leslie Dykeman
Brian and Peggy Eagan
Elizabeth Eagan
Gary and Janet Eagan
Mark N. Eagan
Bill and Pam Eaker
Elizabeth Earley
John E. Edmondson
Jack and Carole Egan
Patricia M. Ely
Elizabeth M. Elze
Elizabeth Etoll
Sheila Eustace
Andrea L. Evans
Dawn Evans
Rev. Msgr. Charles J. Fahey
Mr. and Mrs. Donald Fane
Mr. and Mrs. Patsy A. Faragon
Kathryn A. Farrell
Margaret A. Farrell
Mary Frances Farrell
Patricia H. Fergerson
Maureen Ferraro-Davis
Rita A. Finn
Janet R. Finnegan
Kathleen Fiorillo
Shirley Fischer
Mr. and Mrs. David F. Fitzgerald
Mr. and Mrs. John J. Fitzgerald
Mr. and Mrs. Thomas P. Fitzgerald
Nancy E. Flaherty
Col. and Mrs. William J. Flanagan, Jr.
J. Kelly Flewelling
Karen Flynn
Mr. and Mrs. Joseph A. Fogarty
Annette S. Foley
Maureen Foley Rev. R. Adam Forno
Gretchen Fougere
Harriett and Kenneth Fougere
John Fowler
Franciscan Friars, Holy Name Province, Siena College
Carole A. Fraser
Mary C. Frazier
Carol A. Furman
Henry Fust
Joseph W. Gaffigan
The Estate of Mary D. Gallitelli
Margaret M. Galluppi
Ken and Nancy Gardner
Jo-Ann and Richard Garrison
Kathy Gartlan-Spano
James A. Gasper
Tom and Nancy Gaughan
Eleanore Sweeney Geiger
Joseph L. Geiger
Anthony J. Geiss, Jr. Rev. Joseph H. Getz, OSA
Dr. and Mrs. Mohammad Ghazi-Moghadam
Richard and Denise Giardino
Mary and Andrew Gilbert
Patricia Gilchrist
Mr. and Mrs. Will Gilchrist
Pamela Gilday
Dr. and Mrs. Francis Gilroy
Philip and Kathryn Giordano
Mr. and Mrs.Edward Girzone
Owen Glenn
Gail L. Goebricher
Lynn A. Goldacker Daniel Gonsiewski
Fredricka Gordon
Gorman Brothers, Inc.
Joan M. Gorman
Martha Goskowski
Marilyn Goulet
Elizabeth A. Grande
Sharon Gray
Gene and Beverly Green
Ursula Greiner
Norine Griffith
Mr. and Mrs. Charles Guditis
Annette Guido
Mary M. Guilfoyle
Mr. and Mrs. Joseph Guiltinan
Robert E. Hagadorn
Denise Haley
Linda and Robert Halligan
Dorothy Halloran
Colleen M. Halse
Karen A. Hanlon
John and Joan Harper
Margaret C. Harrigan
Arthur and Margaret Hart
Judith A. Hart
Neil and Nancy Hart
Nicole L. Hart
William and Carolyn Hart
Carol T. Hartmann
Teresa Hartnett
Dorothy R. Harvey
Dorothy A. Hathway
Katie and David Haviland
Patrick and Judith Hayes
Beverly Hays
Mr. and Mrs. Paul J. Heffron
Mr. and Mrs. Stephen E. Heffron
Richard and Mary Hegeman
Kathy and Cliff Hein
Patricia R. Heller
John and Kathleen Hemmer
Jack and Rosemary Hennessey
Sarajane and Rick Henze
Philomena Heroux
Jim and Karen Hibey
Mary A. Hickey
Patricia A. Hickey
Martha Holley
Charlotte Horoschak
Mary F. Horrigan
Mr. and Mrs. John C. Hotaling, Jr.
Hotz Family Charitable Trust
Mr. and Mrs. Leon W. Hovish
Patty Howlett
Martin C. Hoyt, Jr.
Veronica Hughes
W. Dan Hulchanski Diane M. Hull
Pat Hunt
Honor G. Huntington
Mr. and Mrs. David Hurd
Rev. Dominic Ingemie
Kimberly K. Isager
Ginny Jakubics
Marjory L Janssen
Carolee and Joseph Jasiewicz
Robert J. Jasko
Patricia A. John
Margaret Johnson
Rev. William R. Jones
Margaret Joynt
The Juda Family
Chorbishop Joseph F. Kaddo
Barbara A. Kaelin
Kathryn L. Kane
Robert W. Kane
Theresa A. Kane
Donna P. Kassman
Marie Kaszubinski
Robert and Sharon Kelleher
Sandra Kelley
Mr. and Mrs. Brian J. Kelly
Mr. and Mrs. John P. Kelly
Maureen F. Kelly
Rev. Vincent J. Kelly
Jean and Sanford Kemp
Rev. Msgr. James M. Kennedy
Martin and Kathrin Kenny
Mary Anne Kenny
Chris and Patricia Keough
Kathleen L. Kingsley
Robert Kirby
Carol L. Kirchgessner
The Estate of Marcia and John Kirsch
Hank Kissinger
Bob and Anne Knapp
Knights of Columbus Council # 11064
Knights of Columbus Council #3357
Knights of Columbus Council #5398
Knights of Columbus Council #8846
Kathleen Knittel
Daniel and Patricia Kopchick
Mary Ann Kordich Mary Louise Krecidlo
Beverly Krinik
Mr. and Mrs. Thomas W. Kundel
Catharine M. Kurz
Mary E. Lake
Mr. and Mrs. William H. Lane
Mary E. Lang
David and Joyce LaPoint Theresa Lapoint
Carol Larkin
Jeffrey and Diane Leblan Elaine M. Leggieri
Andrew and June Lemery
Connie and Kay Levack
Rocco G. Levo, Jr.
Ellen M. Lewis
Alexander and Kathleen Lim
Mary Jane Liporace
Virginia Loffredo
Mary Jane Lomanto
John Lombardi
Maryann Lonczak
Rev. Laurence J. Lord
Elaine M. Lostumbo
Mr. and Mrs. James J. Louison
Sam Lowe
Linda Lee Lupian
Mary J. Lutz
Patricia E. Lynch
Deacon and Mrs. D. Thomas Mack
John L. Macko
Mary K. Macpherson
Mr. and Mrs. Salvatore Madonna
Virginia G. Madore
Joseph Magliocca
Rose M. Magliocca
Eileen M. Mahady
Barbara and Francis Mahaney
William and Jane Mahar
Mr. and Mrs. Bernard R. Malay
Edward and Suzanne Maloney, Sr.
Sharon and Charles Maneari
Marge Mangan
Kathryn M. Manley
Vincent and Sarah Mannato
Mr. and Mrs. David P. Manny
Kathleen and David Marcais
Angela Maiuri Marczewski
Florence Marini
Marra's Pharmacy Cohoes
Dr. Edward S. Marschilok
Diana G. Marshall
Debbie Martin
Joanne B. Martin
Rev. James E. Martinez, OSA
Aurelie A. Massimine
Mark and Francine Mathews
Deacon and Mrs. Gerard Matthews
Rev. James D. Matthews
Marie Lois N. Maxwell
Rosemary T. Maxwell
Jack Mayer
William D. Mayer
Jacqueline Mazoway
Dennis C. McCabe and Sandi Distin
M. Judith McCampbell
Gerry McCarthy
Mary M. McCarthy Dr. and Mrs. Joseph McCartin
R. Paul McCarty
Thomas and Kathleen McDermott
Mr. and Mrs. Dennis McDonald
Mr. and Mrs. Gerard J. McGarvey
Dr. and Mrs. Michael McGarvey
Mr. and Mrs. Paul McGowan
Rev. Thomas J. McGrath
Mary Grace McGuire-Kelley
Dr. Lauretta A. McGuirk, CSJA
Joan A. McKeon
Mary B. McKeon Connie McKeough
Kathryn McKeough-Duncan
Paula V. McKeough
Tracey McKeough-Olender
Ester L. McKnight
Janice McLaughlin
Peter M. McManus
Maureen V. McMullen
Ellen McNulty
Hon. and Mrs. Michael R. McNulty
Sharron McOmber, SFCC
Rita T. McPherson
Eleanor Meade
Elaine G. Mecier
Kathleen Phelan Meier Irene and Joseph Mello
Rev. Ronald A. Menty
Kathy Meus
Mr. and Mrs. Bernard F. Meyer
Mr. and Mrs. John Mignacci
Margaret Bergh Mihalko
Deborah Mikhitarian-Russell
Deborah and Richard Miller
Elizabeth Miller
Joan Millington
Joe Millington
Margaret E. Mineau
Patricia A. Mion
Michael Ross Mirabito
Bernadette Miron and Linda Rose
The Estate of Mary Eileen Mitchell
Carol A. Monsees
Betty Moore
Anna M. Moosbrugger
Nancy Moran
Stephen F. Morga
Joan Morin
Norma Morin
Rev. Richard P. Morisette
Marie A. Morosco
Beverly A. Morrison
Sheila A. Mosher
Philip and Malia Mossman
Jane and Emil Mozolak
Carol A. Murphy
Mary and Vincent Murphy
Mr. and Mrs. Michael P. Murphy
Richard E. Muth
Francis and Helen Nelson
Maureen M. Nicholas
Joanne Nicholson Mr. and Mrs. Edward J. Nolan III
Patricia L. Nolan
Mr. and Mrs. James H. Norris
The Estate of Rev. Alfred E. Nortz
Michael J. and Rhona M. Novack
Margaret J. Oathout
Rev. Msgr. James T. O'Brien
Jovina M. O'Brien
Kathleen A. O'Brien
Mr. and Mrs. Michael W. O'Brien
Mr. and Mrs. John O'Connell
Ann J. O'Connor
Bernard G. O'Connor, Jr.
James A. O'Connor
Rev. Joseph Michael O'Connor
Joan and Frank O'Grady
Margaret M. O'Hara
Edward F. O'Leary
Mr. and Mrs. Daniel A. Olson
Mr. and Mrs. Bernard W. O'Neill
Brian J. O'Neill
Rev. Richard V. O'Neill
Rev. Don Ophals
Donna Osterhout
Mary Kay Ostwald
Sharon and John Paddock
Arthur Palermo
Marlies M. Palka
Gloria Palmiere
Michael Parzych
Dorothy M. Paul
Catherine M. Paupst
Robert Peet
Suzanne C. Pelcher
Jack and Cynthia Perry
Mr. and Mrs. Nicholas J. Petrella
Barbara Petrus
Joan E. Phillips
Joseph Howard Phillips
Mr. and Mrs. Patrick Piccirilli
Eileen and Wendell Pierce
Nicholas Pinchuk
Joan M. Pinti
Rosalie Pitnell
Mr. and Mrs. Anthony H. Pizza
Mr. and Mrs Robert Pollack
Janet B. Pomeranz
Anne Porcello
Mr. and Mrs. Philip C. Prespare
Joseph D. Pryba
Robert A. Puccio
Judith A. Purcell, DDS
Mr. and Mrs. Richard Putorti
Msgr. Neal E. Quartier
Rev. James T. Queen
Daniel J. Quinlan
Mary M. Quinn Tom and Linda Quinn
Mr. and Mrs. Robert J. Rainville
Mr. and Mrs. Dale Rashford
Robert R. and Theresa A. Rayo
Denise H. Rea
Edith A. Reese
Rev. Edward J. Reimer
Gary Remarchuk
Mr. and Mrs. Charles W. Renders
Kathleen C. Reynolds
John G. Rickard
Marion A. Riegert
Marilyn F. Riley
Mr. and Mrs. Kenneth T. Ring
Romely Ritoli-Lang
Dr. and Mrs. J. Michael Ritty
Joe and Ellen Roarke
Susan Roarke
Mr. and Mrs. Ronald P. Roback
Carla Roddy
Joan Rogers
Roman Catholic Diocese of Albany
Kristine Rooney
Mr. and Mrs. Joseph Roos
Joanne Rootes
Shirley Rosa
Debra and James Rosamilia
Barbara and David Rose
Patricia Rossman
Dr. and Mrs. Paul Roubian
Martha L. Rounds
Betsy Rowe-Manning
Anne Rowley
Joseph D. Rubino
Vincent R. Ruggiero
Maria P. Russell
Mr. and Mrs. Lawrence Ruston
Mr. and Mrs. Robert D. Ruth
Doreen Roach Ryan
Jean Ryan
Mr. and Mrs. Robert Ryan
Sue Ryan
Susan W. Ryan
Mr. and Mrs. Thomas Ryan
Rev. Thomas J. Ryan
Irene M. Sacala
Mary M. Sandstrom
Mr. and Mrs. Sam Saraceno
Phyllis Sargood
Vijay and Parul Saxena
Frank Scanlon
Kathleen M. Scanlan
Elizabeth Schafer
Mr. and Mrs. Robert B. Schaller
Joan and Bernie Schatz
Martin T. Schredick
Mr. and Mrs. John J. Schwasnick The Estate of Mary Ann Scrodin
Frederick and Veronica Scullin
Mary M. Seeley
James F. Sefcik
Rev. Christopher R. Seibt
Rose L. Serafini
Mr. and Mrs. Michael V. Serge
Rev. James P. Serowick
Keith W. Servis
Carmel M. Sfara
Lawrence Shanley
Mr. and Mrs. Alan F. Sharpe
Dolores A. Shaw
Grace Shaw
Rose and Jim Sherin
Janet Shook
Dianne and Albert Shulusky
Wayne E. Sickler
Siena College
Beverly-Jean L. Silvernail
Michele A. Simmen
Barbara Burke Simoneau
John and Cecilia Sindoni
Marcy J. Singer
Richard Singleton
Mary F. Slater
Marie Slattery
Mr. and Mrs. Nicholas A. Smedira
John P. Smith
Judith Smith
Rev. Lester E. Smith
The Estate of Mary Jane Smith
Susan M. Smith
Colleen Snow
Nancy Snyder
Nancy and Joseph Snyder
Mr. and Mrs. Gregory Soderburg
Mr. and Mrs. Anthony Solini
Jeanne and Ken Speanburg
Mr. and Mrs. Leo J. Spear, Jr.
Dr. Peter J. Speicher
Richard J. Spiak
Charles and Gretchen Sprock
Patricia H. Standish
Donald Stapleton
Marcia Stapleton
Mary Kay Stapleton
David and Deborah Stark
Mary B. Staub
Mr. and Mrs. Paul Stefanowicz
Kathleen McGinis Stetson
Marybeth Stevens-Carhidi
Mr. and Mrs. David St. Hilaire
Rev. George G. St. John
St. Mary's Healthcare Amsterdam Associates
Elizabeth L. Stocker
Shirley A. Strauss Mr. and Mrs. Michael T. Strycharz
Betty Suarez
James B. Sutton
Patricia Swanson
Alice Swerdan
Alice Swertinski
Leo and Geraldine Swider
Christine B. Szczepanek
Nola M. Szypula
Joan I. Tansey
Joseph and Susan Telfer
Joseph and Lois Terry
Vicki Therriault
Mr. and Mrs. Mark G. Thompson
Maureen O'Brien Thornton
Theresa Tiffany
Dr. Bruno and Ruth Tolge
Adeline Trask
Louis E. Tucci
Paul Tucci
Mr. and Mrs. Albert V. Turo, Jr. Marcella E. Turzanski
James and Judith Tynan
Christine M. Urban
Mary Ellen Utter
Shelly Valek
Patricia J. Vanallen
Mr. and Mrs. William O. VanHoesen
Rev. James J. Vaughan Mary Anne M. Venditti
Sharon Ventura
Mr. and Mrs. Joseph S. Vogtle
Rev. Richard S. Vosko
Jeanne B. Vuillemot
Diane Waldon
Terry and Katherine Waldron
Mr. and Mrs. William Waldron
Richard and Sharon Walker
Cecelia Walsh
Diane Walter
John Ward
Rev. Thomas I. Ward
Sister Gail Waring, RSM
Anne H. Wasielewski
M. Wassmansdorf
Mr. and Mrs. Mark Wassmuth
Sally Hart Watson
Louie and Nancy Watts
Mr. and Mrs. Peter C. Wayner
Geraldine A. Webster
Mr. and Mrs. Frederick Weis, Jr.
Hon. Leonard A. Weiss
Paul T. Welch
Sandra Westhead
The Estate of Madeline T. Whaley
Ann Donovan White
Robert A. Wierman
Carol O. Willard
Joan and Kevan Williams
Ted and Sheila Winnowski
Virginia F. Winters
Bill and Mary Carmel Wolf
Mr. and Mrs. David H. Wood
Jennifer and Torrey Wood
John E. Wood
Mr. and Mrs. Ronald Woodruff
Frances C. Woods
Ines T. Worlock
Mr. and Mrs. James P. Wright
Rev. George E. Wurz
Gloria and Tom Young
M. Christine Young
Melanie Young
Joanne B. Younis
P. Marla Yudin
Theresa B. Zakrzewski
Barbara M. Zielinski
Sharon Zugalla